Beelink SER6 Pro 7735HS Gaming Mini PC Review
The Ryzen 7000 series chips released by AMD in January this year were complained by a large number of netizens. Many processors of the previous generation replaced the 6 in the name with 7 and put them on the shelves again. Among them, the Ryzen 7 7735HS was the most complained about. Its parameters are almost the same as the Ryzen 7 6800H released last year: 8-core Zen 3+, 16MB L3 cache, Radeon 680M core graphics card..., but some computers The manufacturer promotes it as "a new generation of Ruilong core", trying to confuse consumers who are not so sensitive to parameters.
The new product SER6 Pro launched by Beelink last month is also equipped with this AMD Ryzen 7 7735HS chip. The of the SER6 Pro 6800H. Of course, for consumers, it doesn't matter whether the horse is a or not. As long as it is easy to use and cost-effective, some people will buy it.
Unboxing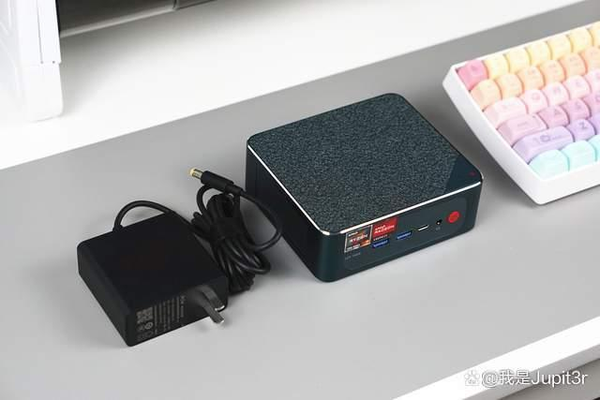 SER6 Pro comes standard with a 120W power adapter, 2 HDMI cables, 1 VESA bracket, 1 pack of screws, and 1 replaceable top cover. The adapter is already a new portable small power supply, so there is no need to contact the manufacturer for replacement later.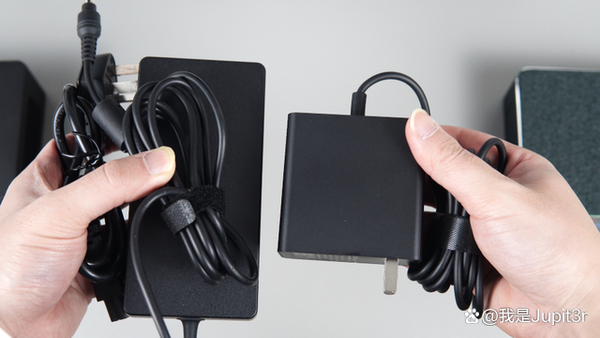 Compared with the 120W adapter (left) of the NUC 12 Wall Street Canyon, the power supply of Beelink is obviously much smaller.
Appearance & Design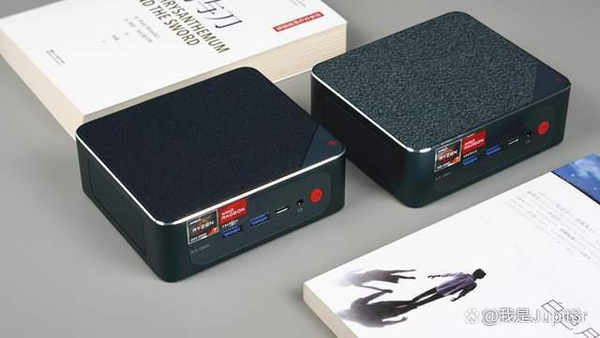 Left: SER6 Pro, Right: SER6 Pro
SER6 Pro adopts the same appearance design as SER6 Pro. The fuselage is made of all-metal material, integrally formed by CNC technology. Although the matte green shell with matte texture and the brand's iconic red power button cannot cater to everyone's aesthetics, it still has its own personality and style. The top cover is covered by waterproof and breathable fabric fabric, which is easy to remove and replace, and easy to clean if it gets dirty.

The fuselage is equipped with 3 USB3.2 Gen2 Type-A interfaces with a speed of 10Gbps, 1 full-featured USB4 interface with a speed of 40Gbps, 1 USB2.0 Type-A interface, 2 HDMI2.0 interfaces, and 1 2.5 G network port, a 3.5mm audio interface, and a DC power adapter interface.
The USB4 interface supports the PD3.1 power supply protocol, so we can use a 100W PD charger as the power supply for the SER6 Pro. This interface also supports DisplayPort 1.4 Alt mode, which can achieve up to 8K@60Hz video output. In addition, it is also compatible with the Thunderbolt 3/4 protocol and supports external graphics card docking stations. Externally connected to ORICO's USB4 mobile hard disk box, the transmission speed can reach the peak of the sequential read and write speed of the mobile hard disk.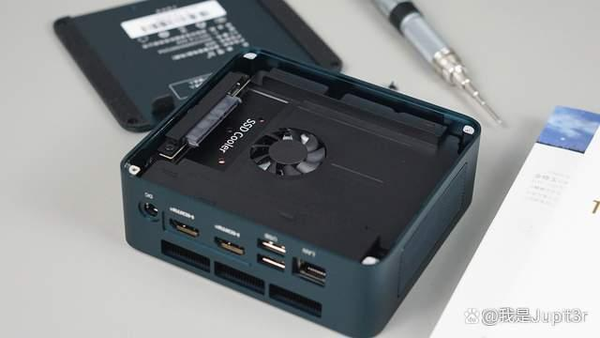 There is an integrally formed aluminum alloy bracket between the bottom plate and the motherboard, and a system fan can be seen in the middle to cool down the solid state drive and memory. A mounting slot for a 2.5-inch SATA hard drive is also designed on the bracket.
There are 2 SO-DIMM memory slots on the motherboard, and 1 M.2 2280 PCIe Gen4 solid-state drive interface. So the SER6 Pro can be expanded to a maximum of 64GB of memory and 4TB of built-in storage. The 32GB/500GB retail version has been pre-installed with two 16GB Crucial DDR5-4800MHz memory sticks and a 500GB Micron PCIe4.0 NVMe SSD. The pre-installed wireless network card is Intel AX200, which supports WiFi 6 and Bluetooth 5.2. Because it is an M.2 2230 specification, it also supports later replacement and upgrades.
Performance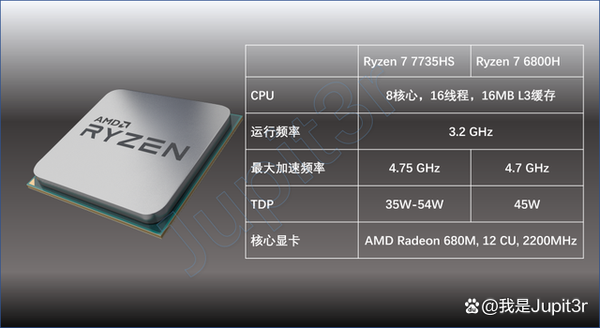 The SER6 Pro is equipped with an AMD Ryzen 7 7735HS processor, which is based on TSMC's 6nm process technology, has 8 Zen3+ CPU cores, 16 threads, and a maximum operating frequency of 4.75GHz. The integrated graphics card is the powerful AMD Radeon 680M, with 12 built-in RDNA2 graphics cores, 768 shaders, and a running frequency of 2200MHz. The performance is not inferior to that of Nvidia GeForce GTX1050TI discrete graphics card. Compared with the 6800H equipped in SER6 Pro, the only difference between 7735HS and 7735HS is that the maximum acceleration frequency is 0.05GHz higher, but how meaningful is the difference in this parameter for performance release? Let's just look at the running score first.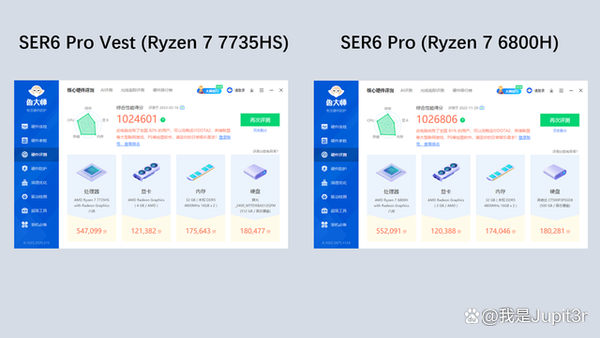 Master Lu's hardware performance test, SER6 Pro scored 1024601, the gap with SER6 Pro is only 0.2%, completely negligible.

In PCMark 10, which also tests the overall performance, the score of SER6 Pro is 6866, which is less than 2% higher than that of SER6 Pro. Generally speaking, 4000 points is the threshold for high-performance Mini PCs and laptops, so these two Mini PCs are considered ultra-high performance.

In Cinebench R23, which focuses on testing CPU performance, the CPU single-core score of SER6 Pro   is 1520 and the multi-core score is 11617. Compared with SER6 Pro 6800H, the difference between single-core and multi-core scores is very small.

In Geekbench 5.4.1, the CPU single-core score of SER6 Pro is 1588, the multi-core score is 9426, and the OpenCL score is 31272, which are also at the same level as SER6 Pro.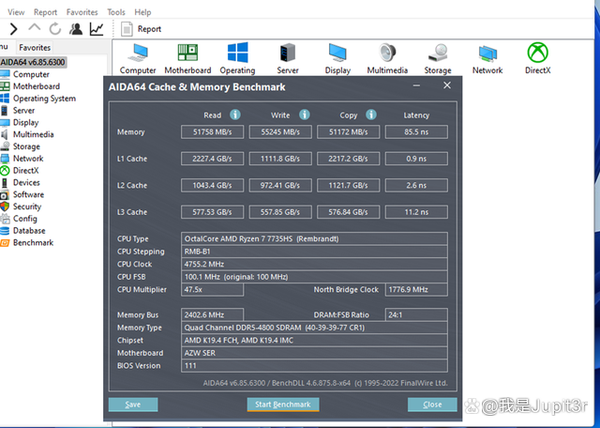 The memory used by SER6 Pro s Crucial DDR5-4800MHz. In the AIDA64 memory performance test, the read, write, and copy speeds all exceed 50,000MB/s, which is more than 40% performance improvement compared with DDR4-3200MHz.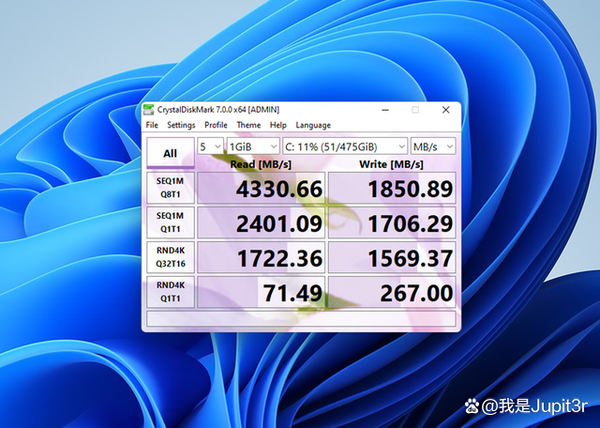 The SSD is a PCIe 4.0*4 specification, with a sequential read speed of 4331MB/s and a sequential write speed of 1851MB/s, which is not much improved compared to PCIe Gen3 SSDs. The interface of SER6 Pro supports SSD with a speed of 7000MB/s. Consumers who have this requirement can choose to purchase the barebones version.
Gaming Performance
Like the Mini PC of 6800H, the biggest selling point of SER6 Pro 7735HS is still its core display performance. Before the Mini PCs using Radeon 780M actually go on sale, Radeon 680M is still the strongest core display at present, and it can basically support all current mainstream games smoothly.
As before, I chose Time Spy and Fire Strike in 3DMark to test the performance of the PC when running DirectX 12 and DirectX 11 games respectively. The SER6 Pro 7735HS scored higher than the SER6 Pro in both tests, but not by much.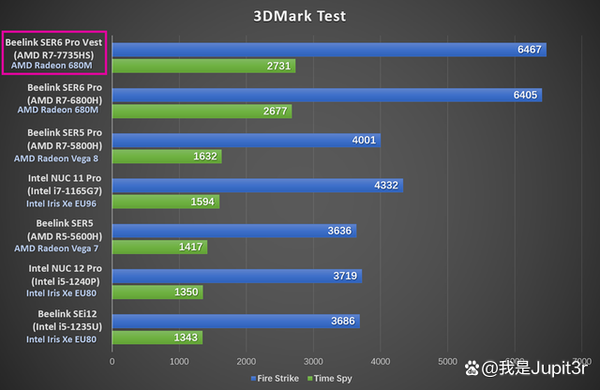 Compared with NUC12 Wall Street Canyon's Iris core display and AMD's previous generation Vega core display, the performance of Radeon 680M has been greatly improved.

The games I actually tested on SER6 Pro include "League of Legends", "Genshin Impact", "PUBG", "Conqueror's Blade" and "The Witcher 3". In general, the fluency is the same as that of SER6 Pro small differences. Among them, "League of Legends" is also very smooth in 4K and high-definition settings.
Content Creation
In addition to playing games, SER6 Pro is also a Mini PC that can be used for productivity work. The actual test includes making pictures in Adobe Photoshop and Lightroom, and editing 4K videos in DaVinci Resolve and Power Director. Complicated rendering and filters have never been stuttered.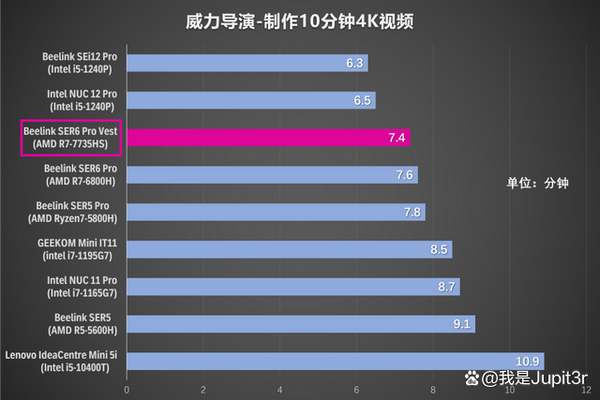 However, the video encoding capability of AMD core display is still far behind that of Intel core display, so the time-consuming of SER6 Pro in the video production stage is longer than that of the two Mini PCs that use i5-1240P.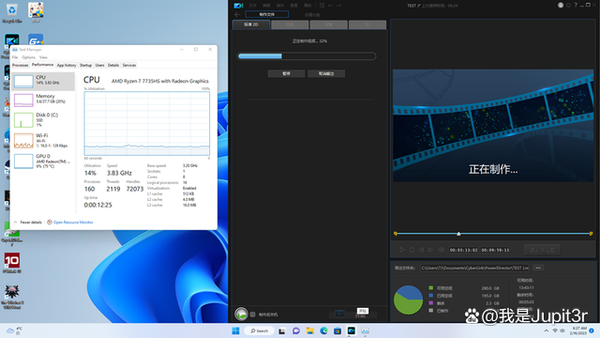 During video encoding, the CPU and GPU occupancy rate of SER6 Pro is always relatively low, indicating that the hardware acceleration is not thorough enough. But the advantage is that we can continue to use the computer to perform other tasks smoothly at this time, so we don't have to wait until the progress bar of video encoding is finished.
Video Playback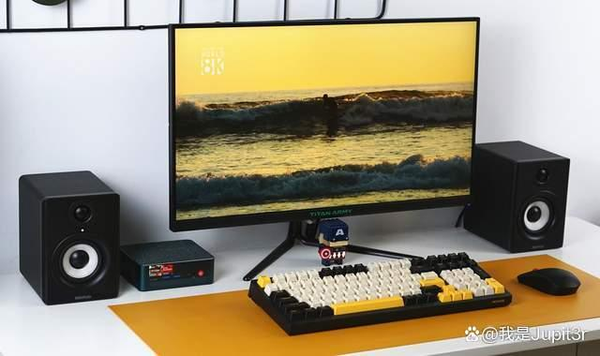 Compared with the previous generation of Vega core display, AMD Radeon 680M has no improvement in video decoding capabilities, and it is far behind the UHD core display of Intel's new generation of low-power Mini PCs. However, mainstream video formats can still support 4K or 8K, so daily audio-visual entertainment is not a big problem.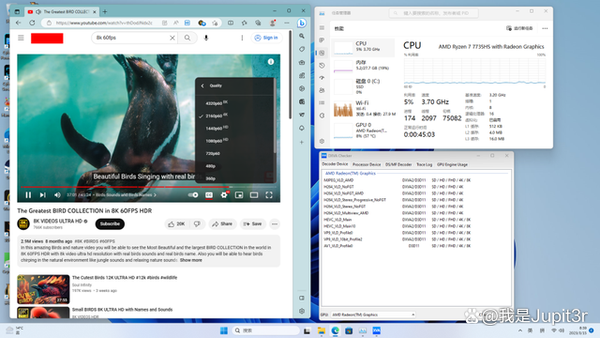 Online playback of 4K 60fps and 8K 30fps web videos is also very smooth, and the hardware resource usage is very low. However, because it does not support AV1 decoding, SER6 Pro   will get stuck with a slideshow effect when playing 8K 60fps web videos. In contrast, I reviewed the low-power Mini PCs of Alder Lake N95 and N100 a few days ago, which can smoothly play 8K 60fps web video. So, if you mainly want an HTPC, the SER6 Pro is not suitable for both price and performance.
Stability and Power Consumption

The stability performance of SER6 Pro is not bad, passing 97% in the 3DMark Time Spy stress test. In the stability test of AIDA64, the CPU did not report frequency reduction after running at full load for an hour.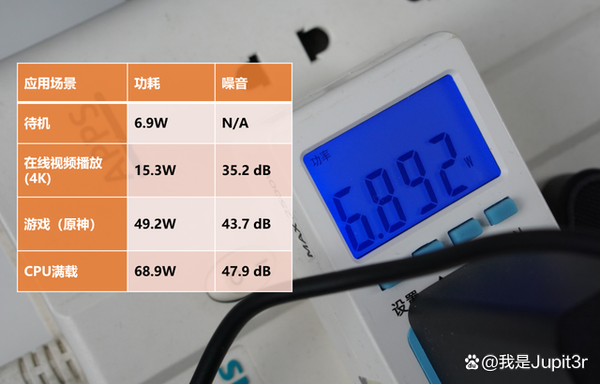 In terms of power consumption, it is only 6.9W in standby mode, only 15W in online 4K video playback, and less than 70W in full load, which is very power-saving. The previous SER6 Pro and GTR6 have solved the problem of loud noise during high-load operation after several BIOS upgrades. This time, the noise control of SER6 Pro is well adjusted when it leaves the factory. Noisy.
Over Verdict
Although equipped with a chip with a completely different name, the SER6 Pro is essentially the same product as the SER6 Pro. In fact, at the beginning, I didn't understand why Beelink launched a   version of the machine. After thinking about it, it should be due to the consideration of long-term chip supply. It is very likely that AMD will completely replace the 6800H with the 7735HS in the future. For consumers, since the current SER Pro has been adjusted to the same price as the SER6 Pro, it doesn't matter which one you choose. OK, this is the end of this review.