Maxtang 5600U Mini PC Review - Powered By AMD Ryzen 5-5600U Processor
In the past, a Mini PC that could be used as a main computer usually started at $350, but now you can buy a high-performance Mini PC for less than $300. The Maxtang 5600U Mini PC I am going to review today is equipped with a powerful AMD Ryzen 5-5600U processor, pre-installed with 16GB of memory, 500GB of solid-state hard drive and the full version of the genuine Windows 11 operating system, but the price is only $295. In today's article, I will share with you my experience of using it for more than a month.
Unboxing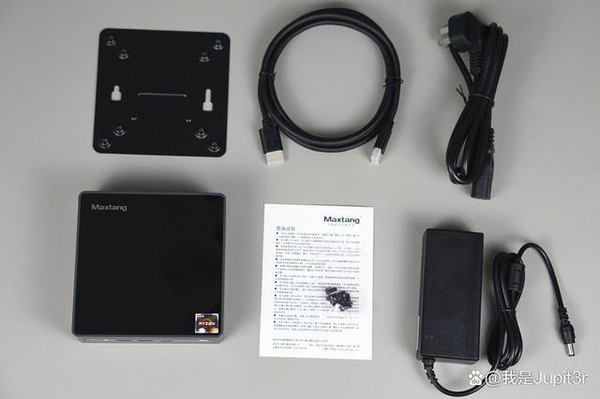 The packaging box of the Maxtang Mini PC is very large. In addition to the Mini PC, the accessories include 1 VESA bracket, 1 60W power adapter, 1 instruction manual, 1 HDMI cable, and 1 pack of screws.
Design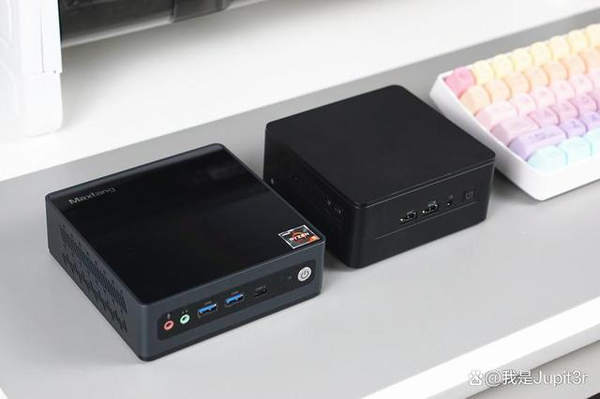 Maxtang 5600U Mini PC has a larger width and depth than Intel NUC, but it is much thinner. It can be placed on any computer desktop, or hidden on the back of the monitor or under the desktop through the official standard VESA bracket.
This Mini PC looks relatively low-key in appearance, but still has a certain sense of design. The side panels are made of ABS plastic, and the top panel is made of tempered glass instead of acrylic, which is common in low-end Mini PCs, so it is not easy to be scratched during use, but it is as easy to collect fingerprints as acrylic.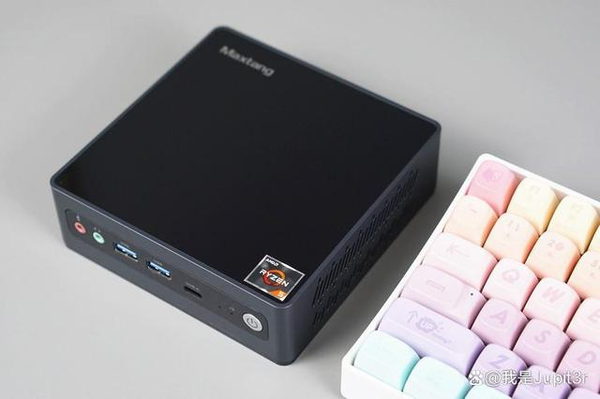 The upper left corner of the top is Maxtang's English trademark Maxtang, and the lower right corner is the certification sticker of the AMD Ryzen 5 processor.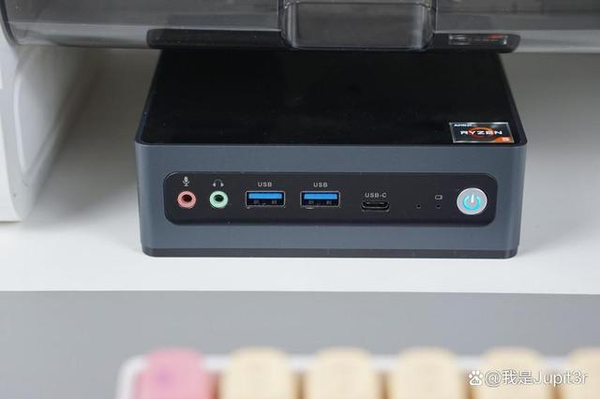 The front of the fuselage is equipped with a microphone jack, a headphone jack, two 10GB bandwidth USB3.2 ports, and a USB-C port. Unfortunately, the Type-C interface here is not fully functional and only supports data transmission. There is a built-in LED in the power button, which will always be blue when turned on. In addition, this Mini PC also supports the function of infrared remote control, which can cooperate with the remote control to realize operations such as power on and off, volume adjustment, etc.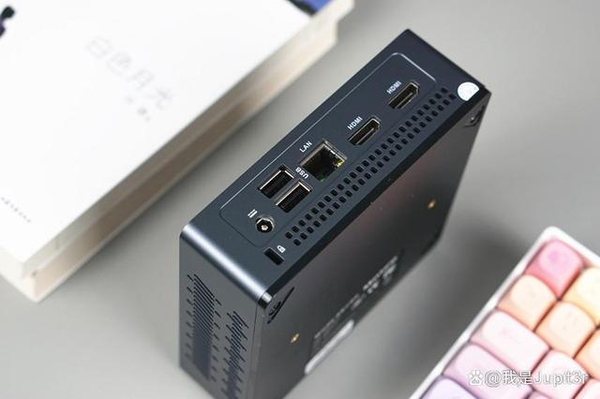 The back contains 1 USB3.2 interface, 1 USB2.0 interface, 2 HDMI2.0, 1 Gigabit Ethernet port and 1 DC power interface.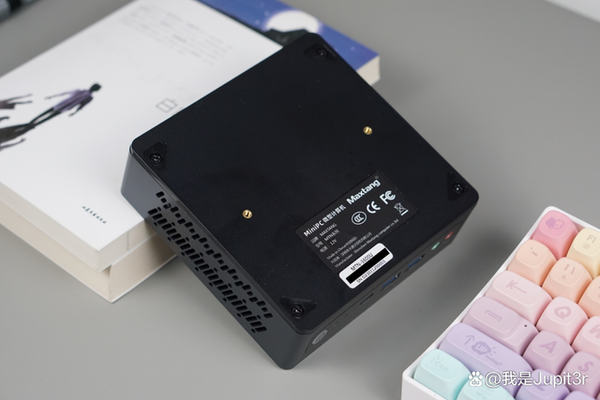 In the middle of the bottom of the fuselage is a reserved hole for installing a VESA bracket. After removing the screws at the four corners, you can disassemble the bottom plate, and then upgrade the memory and hard disk.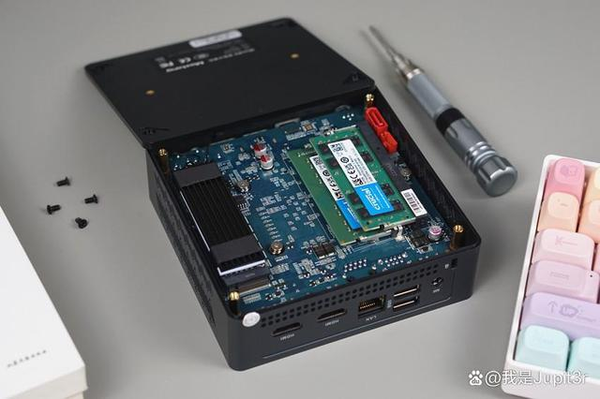 The internal expansion interface includes a PCIe3.0*4 M.2 Type-2280 SSD slot and two memory slots. The pre-installed wireless network card is a standard M.2 2230 specification, supports WiFi 6 and Bluetooth 5.2, and supports later replacement. The one I have is a thin version of 5600U, which only supports a single hard drive. The brand also launched a thick version of the Mini PC that can be installed with a 2.5-inch hard drive for consumers who need it.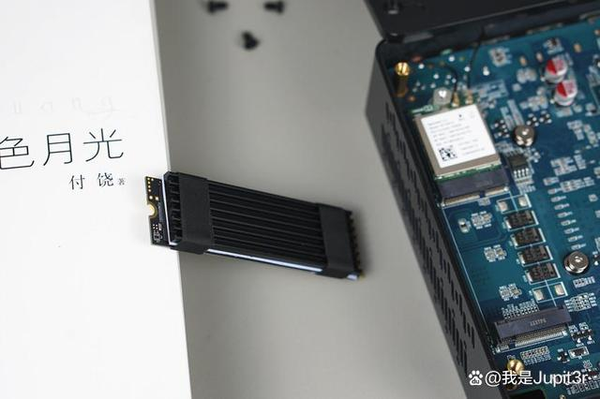 The pre-installed accessories are all from international manufacturers, the memory is DDR4-3200 from Crucial, and the hard drive is from Kingston. In order to ensure the stability of the read and write speed of the solid-state drive, a heat-dissipating silicone pad and a metal back armor have been added at the factory, which is quite considerate. In the test of CrystalDiskMark, the sequential read and write speeds of the hard disk are 3466MB/s and 2535MB/s respectively, which is already the ceiling of PCIe Gen3 SSD.
Hardware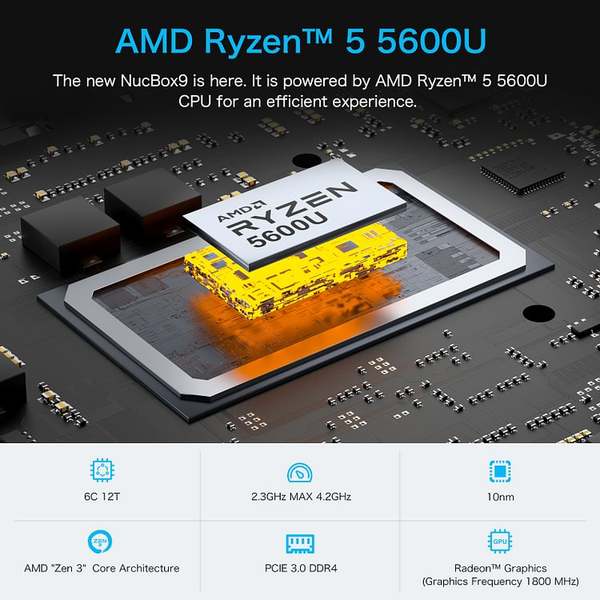 Maxtang 5600U is equipped with AMD Ryzen5-5600U processor, which uses TSMC's 7nm FinFET process technology, six Zen3 architecture CPU cores, twelve threads, 16MB L3 cache, the basic operating frequency is 2.3GHz, and can be boosted to 4.2GHz. In addition, this SoC also integrates an AMD Radeon Vega 7 core graphics card running at 1800MHz, and its 3D performance has basically reached the level of discrete graphics cards such as Geforce MX350.
Benchmarks

In the Cinebench R23 test, the 5600U single-core score reached 1378, and the multi-core score reached 8593, which is nearly 40% higher than the i7 version of Intel NUC 11, and surpassed the Mini PCs of Core i5-1235U and Ryzen 5-5600H.

The scoring logic in Geekbench5.4.1 is basically the same as Cinebench, except that the multi-core score of 5600U is lower than that of i5-1235U this time.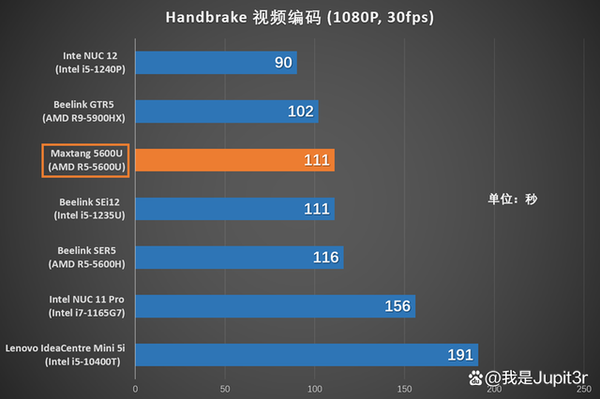 Transcoding a video of 3 minutes and 11 seconds through Handbrake, the completion time of 5600U is even shorter than that of the i5-1235U Mini PC.

PCMark is mainly used to test the comprehensive performance of office and productivity. We generally think that a score of more than 4000 is considered a high-performance computer, and Maxtang 5600U has a score of 5909 in this test, which is less than 10% behind the 5900HX Mini PC.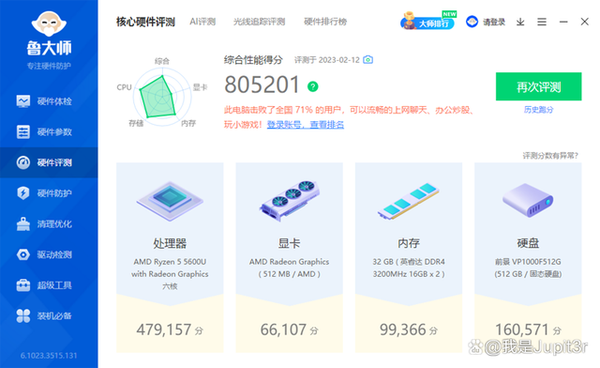 Among domestic netizens who are more willing to refer to Master Lu, the score of Maxtang 5600U is 805201, surpassing 71% of the computers on the entire network. For a Mini PC with a price of only $300, this result is already very good.
Content Creation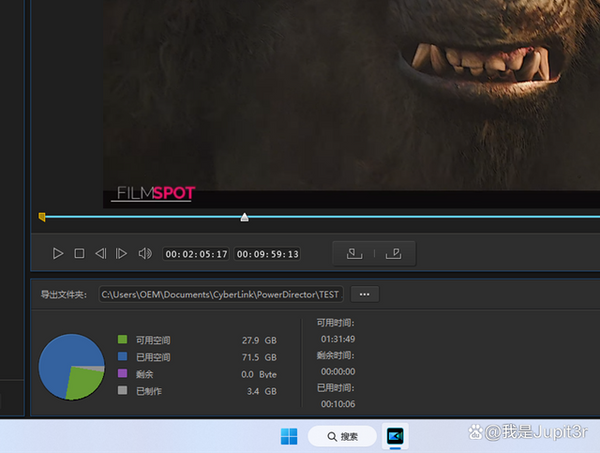 Even low-power Celeron Mini PCs can smoothly support tasks such as web browsing, stock trading, and light office work, which will naturally not cause any pressure on Maxtang 5600U. From my actual practical situation, it can usually maintain relatively high efficiency when dealing with relatively complex content creation. When editing 4K video in Power Director, the regular division, speed change, transition, audio compression and other operations are very smooth, and the rendering speed is not bad.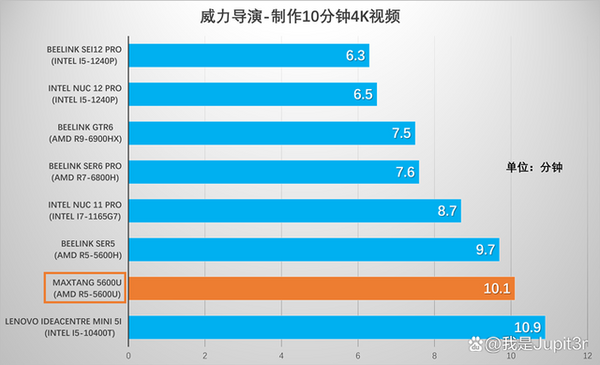 However, in the final video generation process, the 5600U's CPU and GPU occupancy rates are very low, resulting in a relatively long time-consuming, which is caused by the insufficient hardware solution acceleration of the video encoding by the AMD processor. Therefore, for consumers who mainly create video content, I would recommend Intel-based Mini PCs more.
Gaming Performance

Maxtang 5600U without independent graphics is naturally not designed for game enthusiasts, but the performance of Radeon Vega7 is still enough to run most mainstream games smoothly at lower settings. 3DMark mainly tests the graphics performance of the computer by simulating the scene of the game screen. This time I chose two sub-tests, Time Spy and Fire Strike, to examine the performance of the computer when running DirectX 12 and DirectX 11 games respectively. The scores of Maxtang 5600U in these two tests are 1387 and 3546 respectively, which are lower than the two Core core Mini PCs equipped with Iris Xe Graphics core display.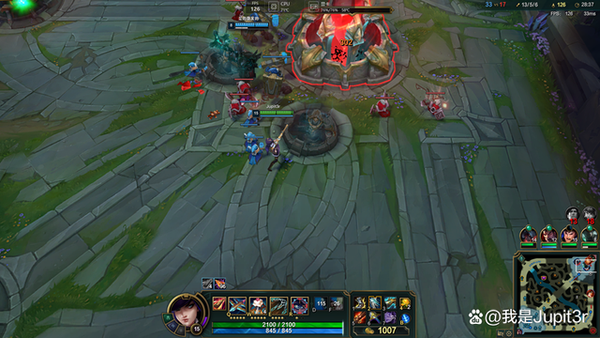 League of Legends, 1080P + medium special effects, the average frame rate is 126fps, and the entire game process is always maintained at above 100fps, including some very complex team battle scenes, which is quite smooth.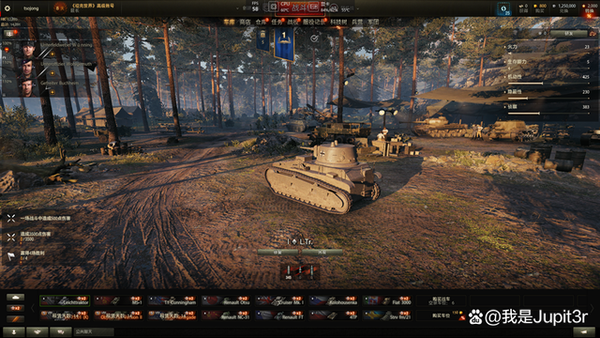 World of Tanks, 1080P+ medium special effects, average frame rate of 58 fps, the basic flow of the entire game process, but slightly inferior to the Mini PC with Iris Xe Graphics core display, probably because of the in-game video Encoding support issues.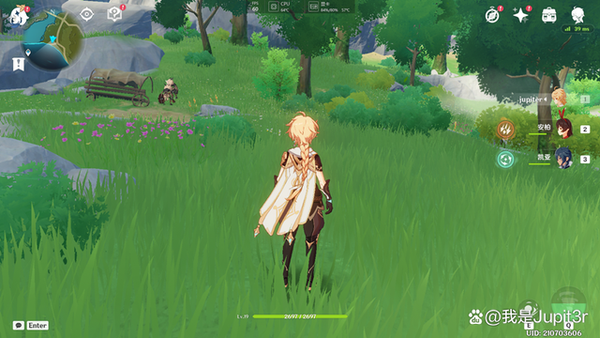 Genshin Impact, which has higher requirements on the graphics card, is 1080P, and the average frame rate is 44 fps in medium quality, which is basically smooth. If you switch to 1080P+ minimum quality, the average frame rate can be stabilized at 60 fps.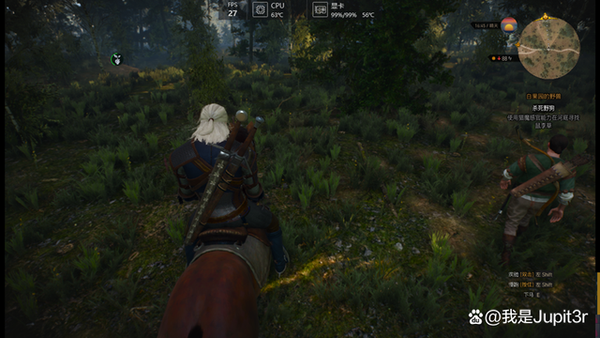 The average frame rate of the AAA game Witcher 3: Wild Hunt, which has high requirements on graphics card performance, is only 19 fps at 1080P + low special effects, and the experience is not good. After switching to 720P+ low special effects, the average frame rate can be increased to 29 fps, but it can only be regarded as playable.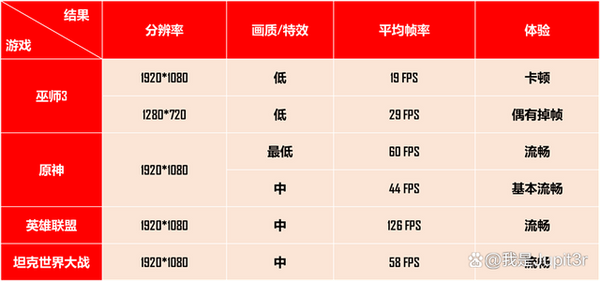 To sum up, the 3D performance of Maxtang 5600U can meet the game needs of ordinary users, but it is obviously not enough for real game enthusiasts.
Video Playback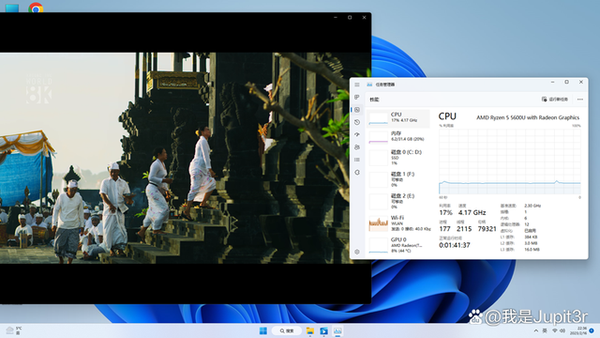 The number of video formats that AMD core graphics can hard-decode is less than that of Intel core graphics, but common mainstream formats can still support higher resolutions. When playing an 8K video with a high bit rate in VP9 format, the CPU and GPU usage is actually not too high. Playing 4K/60fps webpage videos is also smooth, but because Radeon Vega lacks hard decoding support for AV1 video encoding, once switching to 8K, the CPU usage will instantly increase to 100%, and the frame rate will drop significantly. Accompanied by occasional stuttering.
Stability, Noise and Power Consumption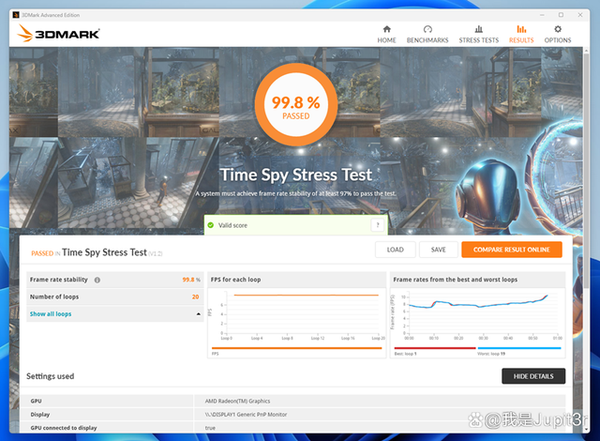 The operation of Maxtang 5600U is very stable, running the game "Yuan Shen" continuously for 1 hour and 30 minutes, and the fluency has not fluctuated significantly. In 3DMark Time Spy's stress test, it got a high score of 99.8%. Moreover, in the one-hour stress test of AIDA64, the software did not record the CPU frequency reduction. From the data read by HWinfo, the CPU temperature reached a maximum of 99.1°C during the stress test, but quickly dropped to more than 70°C through effective heat dissipation.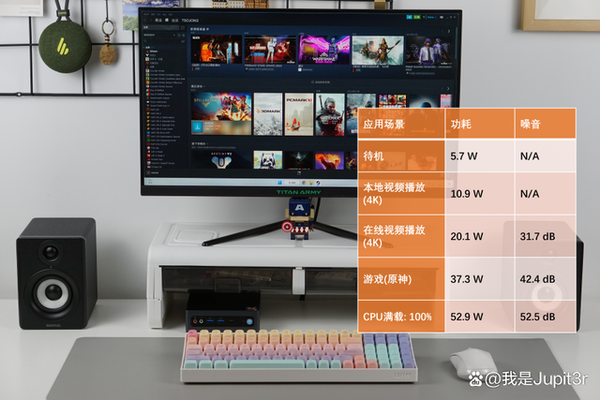 Most users will choose to place the Mini PC on the computer desktop, so noise is also an element that we need to consider when purchasing such products. The noise performance of Maxtang 5600U is at the middle level among the Mini PCs I have tested. There is no noise when it is in standby mode, and the noise is relatively small when it is running at low load. However, the sound is really obvious when it is running at high load, and it can occasionally exceed 50 decibels. . Friends who are more concerned about noise can choose to install it on the back of the monitor, or under the desktop.
The power consumption of this Mini PC is not high, the average power consumption in standby mode is only 5.7W, and when the CPU is fully loaded, the maximum power consumption recorded is only 52.9W. Compared with conventional desktop computers, 5600U can save considerable electricity bills every year, and can also make a contribution to environmental protection.
Conclusion
Maxtang 5600U currently sells for only $220 as a barebone system, and the full version with 16GB of memory, 500GB SSD, and genuine Win11 can be bought for only $300, which is extremely cost-effective. If you want to buy a mini console as your main computer and have a limited budget, it will be a very good choice.