GEEKOM Mini IT11 Mini PC Review
Intel Core processors are favored by Mini PC manufacturers and consumers because of their excellent energy consumption ratio, excellent heat control, and better software compatibility. The GEEKOM Mini IT11 we are going to review today is equipped with an Intel Core i7-11390H processor and equipped with dual full-speed USB4 ports. If placed at the beginning of last year, the Mini IT11 equipped with the Tiger Lake-H chip will undoubtedly be one of the most competitive Core platform Mini PCs. But the problem is that the core only entered the domestic market half a year ago, and this model has only recently started selling, so is it really worth buying Mini IT11 today in 2023? This article will give you a detailed analysis.
Unboxing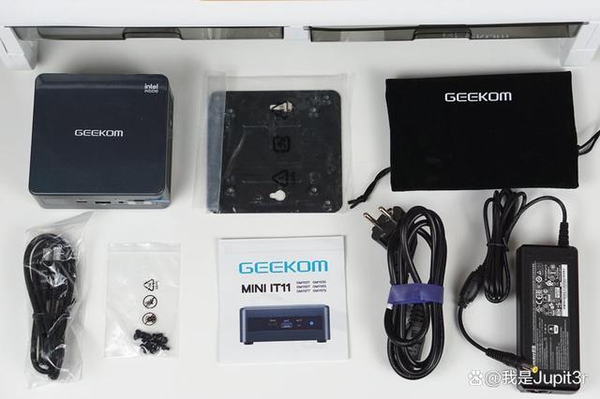 In addition to the Mini PC, the random accessories in the box include: VESA bracket, velvet bag, 90W power adapter, manual, VESA bracket, HDMI cable and screws.
Design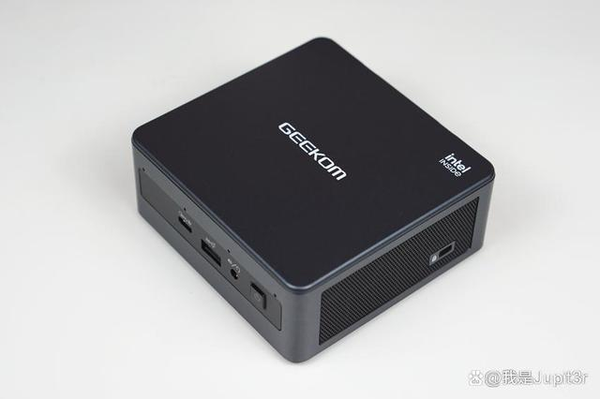 The appearance of GEEKOM Mini IT11 is very similar to NUC 11, not only the same size, but also the distribution of interfaces. The body shell is made of ABS+PC, and the color is bluish-gray. Although it does not have the high-grade metal texture of the Xiaomi Mi host, it is still quite attractive.

The body size is only 0.6L, but it is equipped with rich interfaces, including 2 full-speed USB4 (20Gbps marked due to certification issues, but actually 40Gbps), 3 USB3.2 Gen2, 1 HDMI2.0, 1 Mini DP1.4, 1 Gigabit Ethernet port, 1 SDXC card slot, 1 3.5mm audio port, and 1 DC-in power port. In general, Mini IT11 is the one with the most reasonable interface configuration among the Mini PCs I have tested, none of them.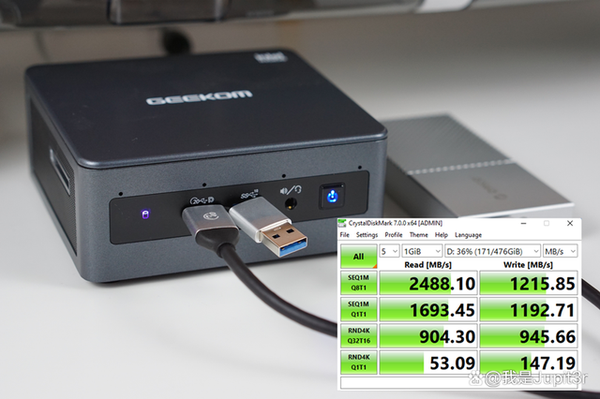 Different from the dual Thunderbolt 4 ports used by the Intel NUC 12 and the Xiaomi Mini PC to share the 40Gbps data bandwidth, the two USB4 ports of the Mini IT11 each enjoy an exclusive 40Gbps transmission bandwidth and are compatible with the Thunderbolt 3/4 protocol. After a new Thunderbolt or USB4 peripheral is connected, the connected device will not be affected. The distribution of the two USB4 ports one after the other is also reasonable. Tested with an external USB4 mobile hard disk box, the read and write speed can reach the peak value of NVMe hard disk.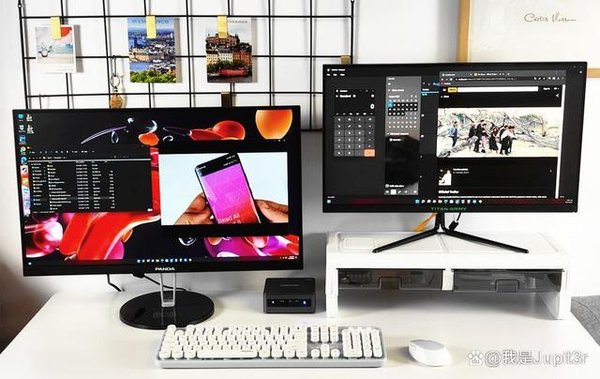 Thunderbolt 4 interface and Mini DP1.4 interface both support video output up to 8K@60Hz or 4K@120Hz, plus HDMI 2.0 interface that supports 4K@60Hz, Mini IT11 can realize four-screen different display output, thus greatly improving the office environment. and productivity efficiency. Of course, because of the limited performance of the Iris Xe Graphics core display, if you really want to connect four screens, I still recommend using the 1080P/60Hz output setting. In addition, this Mini PC can also be used with an external Thunderbolt graphics expansion dock.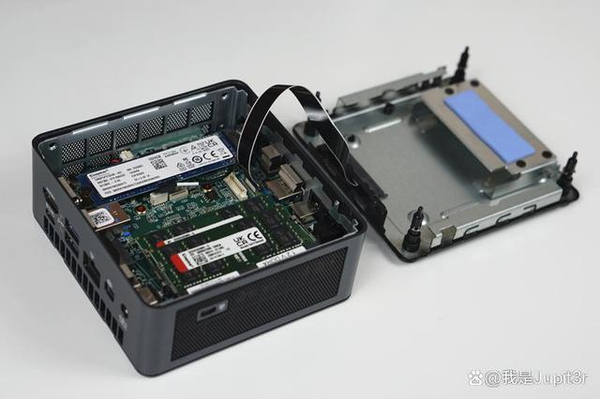 Like the NUC, the Mini IT11 uses a metal frame inside, which can effectively prevent damage to internal components caused by vibrations and drops. The pre-installed dual DDR4-3200 memory sticks and M.2 2280 PCIe 3.0*4 SSD are Kingston brand. In terms of wireless, Mini IT11 supports WiFi 6 and Bluetooth 5.2.
Hardware Performance & Benchmark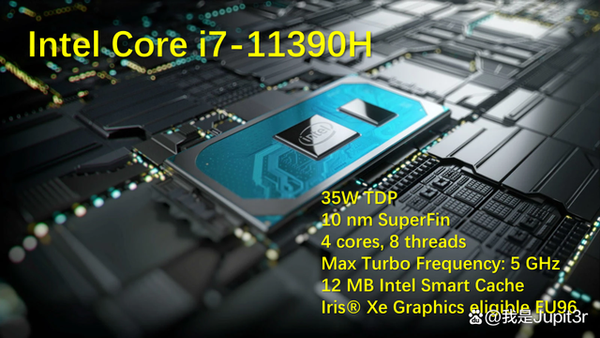 The Core i7-11390H processor on the GEEKOM Mini IT11 belongs to the Intel 11th Generation Tiger Lake family. It has 4 CPU cores, 8 processing threads, a maximum Turbo Boost up to 5.0 GHz, and a 12 MB Intel Intel cache. The integrated core graphics card is Iris Xe Graphics eligible with 96 execution units, which can provide graphics performance equivalent to entry-level discrete graphics cards such as GeForce MX250 and GTX750 TI. The i7-11390H can be regarded as one of the most powerful products among the 11th-generation mobile Core chips, but the 12th-generation Intel Core upgrade is too huge, and this chip is no longer competitive in 2023 today.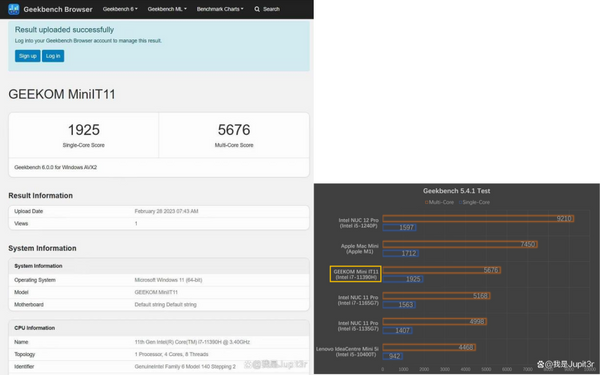 In the GeekBench 5 test, the CPU single-core score of Mini IT11 is 1925, and the multi-core score is 5676. Among them, the single-core performance is 21% higher than that of the NUC 12 Pro with Core i5-1240P, but the multi-core performance is 38% behind.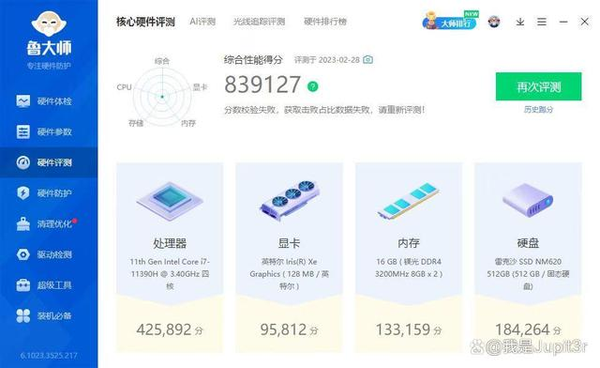 In Master Lu's hardware performance test, the overall performance of Mini IT11 is 839,127, which is far behind the NUC 12 Pro's 1,051,221.

PCMark 10 is a benchmarking software that tests the overall performance of computers by simulating real-world productivity workflows. A score of 4000 is generally considered the threshold for high-performance Mini PCs. GEEKOM Mini IT11 scored 4655 in this test, including 6517 for productivity and 4628 for digital content creation. The NUC 12 Pro (1240P) scored 5586 in the same test, 20% higher than Mini IT11.

In 3DMark, which focuses on testing PC game performance, we selected two sub-tests, Time Spy and Fire Strike, to run the Mini IT11. Test results reflect PC performance when running DirectX 12 and DirectX 11 games, respectively. It can be seen from the comparison that compared with the UHD core display integrated in Intel desktop processors, Iris Xe Graphics eligible is many times higher in performance. But what is confusing is that the i7-11390H, which also displays the number of execution units and has a more powerful CPU performance, scores far lower than the i7-1165G7 in both tests. I don't know if it is because of the thermal adjustment of the accumulated core due to.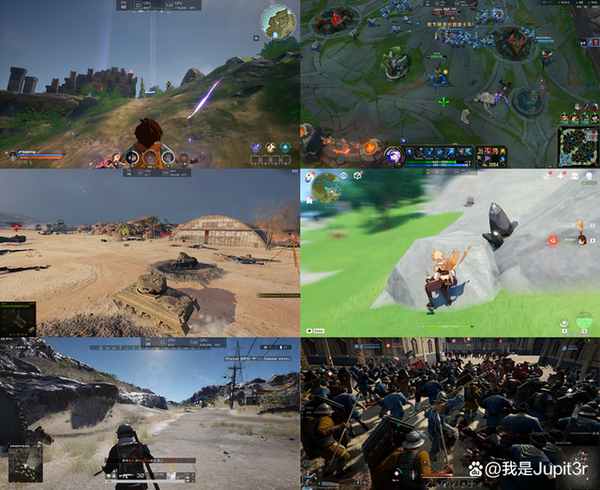 In terms of actual games, Mini IT11 can smoothly run large games such as "League of Legends", "Yuan Shen", "World War of Tanks", and "PlayerUnknown's Battlegrounds" at 1080P and medium and low special effects settings. But if you want to play AAA games such as "Elden Ring" and "Cyberpunk 2077" that require higher 3D graphics performance under 1080P settings, an external graphics dock is the only option.
Conclusion
The current price of GEEKOM Mini IT11 on the e-commerce platform is 3399 yuan, including 16GB dual-channel memory, 512GB PCIe3.0*4 NVMe solid state drive, and genuine Windows 11 operating system. Such a configuration and price will be very competitive in early 2022. However, the embarrassing situation is that there are many Core i5-1240P and AMD Ryzen 7 6800H Mini PCs in the same price range. Whether it is a Core fan or a Ryzen fan, it seems that it is difficult to find another 11th generation Core Mini PC. reason. And what kind of answer sheet GEEKOM Mini IT11 will hand over in the market can only be left to the market to decide.