MINISFORUM HX80G Neptune Series Mini PC Review
In recent years, with the progress of the process, the energy efficiency ratio of mobile chips has been greatly improved, and AMD Ryzen has emerged a large number of low-power and high-performance "God U". And this has also led to the development of the Mini PC industry. At present, the mainstream Mini PCs on the market are basically equipped with notebook processors, which can only cope with daily office work. And for those players who want a mini size and want to play AAA Gamess, it is not easy to find a Mini PC that meets their needs.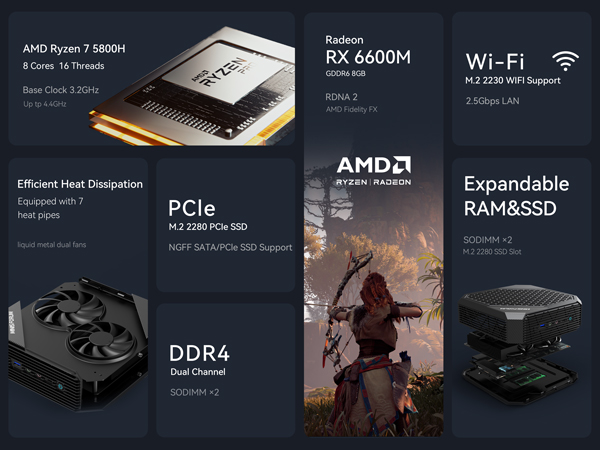 However, MINISFORUM, which has been deeply involved in the mini console market, has launched a unique product——HX80G. It is equipped with a gaming notebook-level Ryzen™ 7 5800H+RX6600 8G configuration, and the volume is still controlled at only half of the gaming notebook, providing gamers with a new choice. IT Home has received the version of MINISFORUM HX80G 16G+512G storage. In this article, we will bring you a detailed graphic evaluation. The following is an overview of the configuration.
Design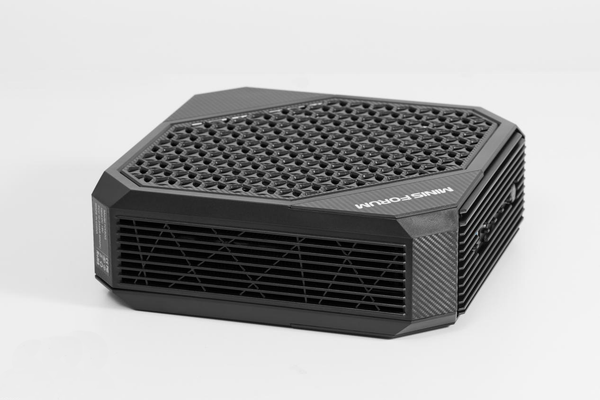 Compared with other Mini PCs, MINISFORUM HX80G is a big guy; but compared to desktops with the same performance, it is much smaller. Its measurements are 205 (W) x203 (D) x69.3 (H) mm, weighing about 1.2KG, basically equal to the size of half a gaming laptop , and can be easily stuffed into a backpack.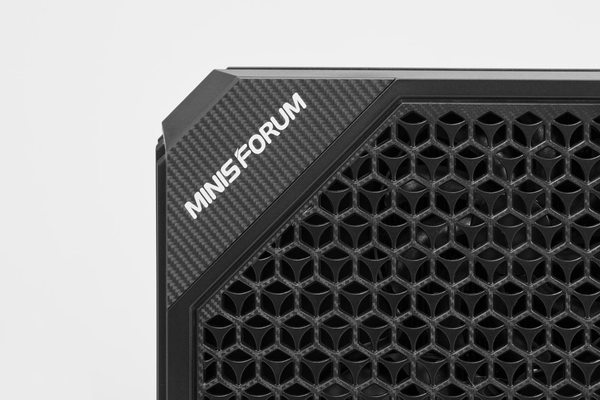 The body of MINISFORUM HX80G adopts a hard-core armor-style design, with sharp edges and corners and a strong sense of industry. There are carbon fiber textures beside the logo at the corners as embellishments.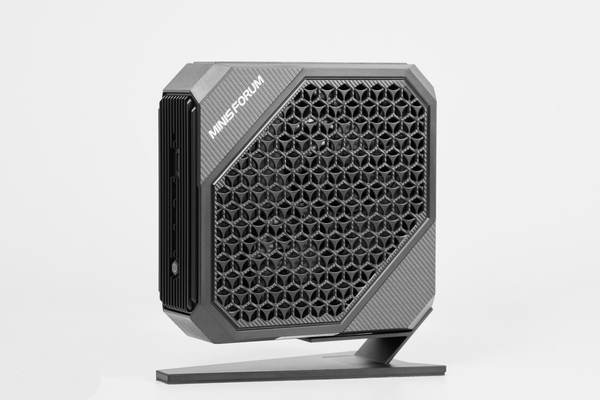 Through the Mesh grid, we can see that it has two large-sized fans built in, one for the cooling of the independent display and the other for the cooling of the CPU, and both the CPU and the GPU are cooled by the cooling module of the Liquid Metal 7 heat pipe. Heat conduction, so its performance release is stronger than most Mini PCs.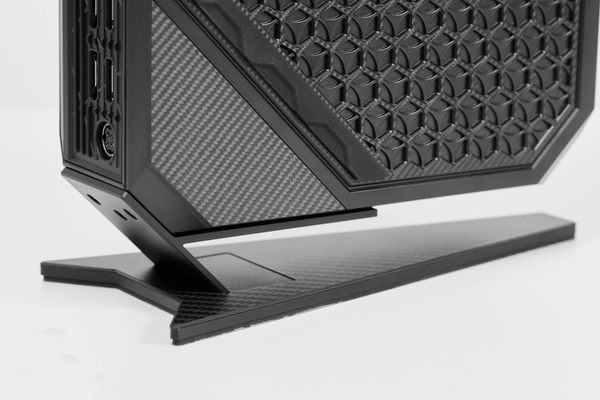 A carbon fiber-style bracket is included in the package, which can be fixed to the bottom of the fuselage with screws to support the entire fuselage. This not only saves more desktop space, but also enhances the heat dissipation of the body.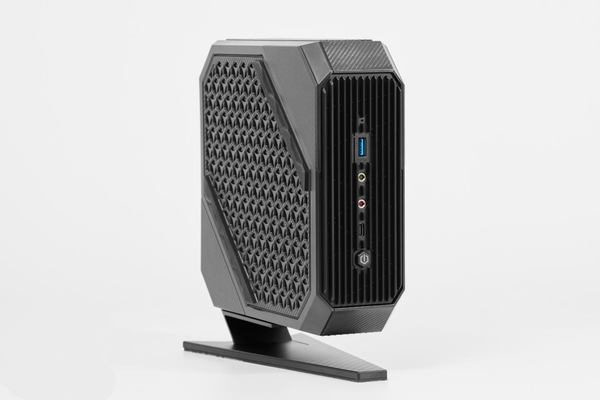 In terms of interfaces, the front of the fuselage has a USB3.2 Gen1 Type-A interface, a set of 3.5mm audio interfaces and a USB3.2 Gen1 Type-C interface. Unfortunately, this C port is not a USB4 port, because the 5th generation Ryzen does not support it. However, MINISFORUM also has a HX99G with the same mold, the processor is upgraded to R9-6900HX, and that model is equipped with a USB4 interface, which can realize 40Gbps high-speed transmission and graphics card expansion.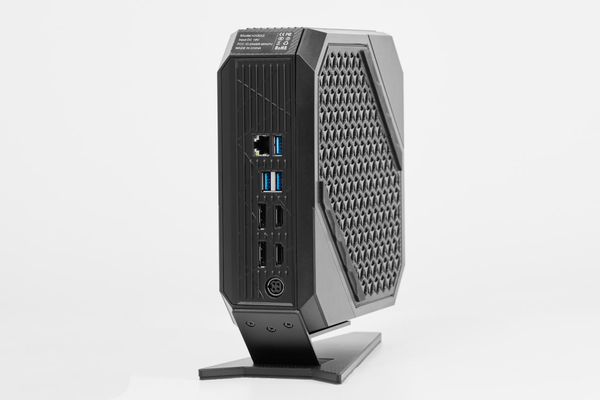 The interface on the back is even richer. There is a Gigabit Ethernet port, 2 USB3.2 Gen1 Type-A ports, and 1 USB3.2 Gen2 Type-A high-speed port. And two DP two HDMI. These four interfaces all support a maximum 4K60Hz output, which means that four screens can be displayed at the same time.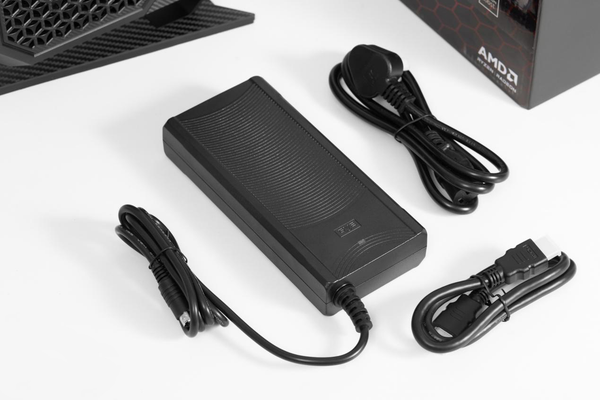 Powering this Mini PC is a "small brick" adapter that is not small in size. The adapter size is similar to most gaming laptops. Since the cord is long enough, it can be hidden under the table in actual use to ensure a clean table.
Hardware Analysis
The CPU of this version of MINISFORUM HX80G in our hands is AMD Ryzen 7-5800H. The hardware specifications of the Ryzen™ 7 5800H are 7nm process, 8 cores and 16 threads, 3.2GHz main frequency, 4.4GHz turbo frequency, 16MB L3 cache, and TDP power consumption of 45w.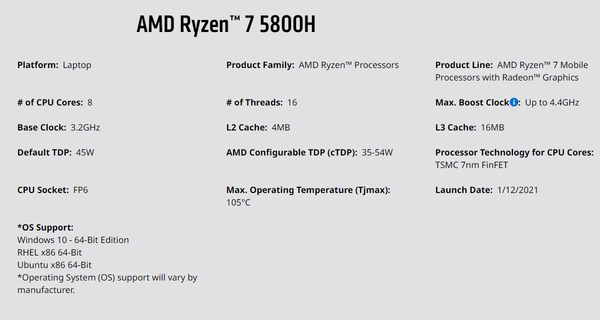 The Ryzen™ 7 5800H adopts AMD's relatively new Zen 3 architecture, and the Zen 3 architecture has been transformed into a new unified composite design that integrates 8 cores and 32MB L3 cache into one resource group. Core-to-core and core-to-cache latencies are substantially reduced by on-chip adjacency of resources to minimize communication time. This improvement brings great benefits to very latency-sensitive tasks such as computer games, as tasks can now directly access the L3 cache twice as fast as the original "Zen 2". And the new TSMC 7nm process can also bring better energy consumption ratio.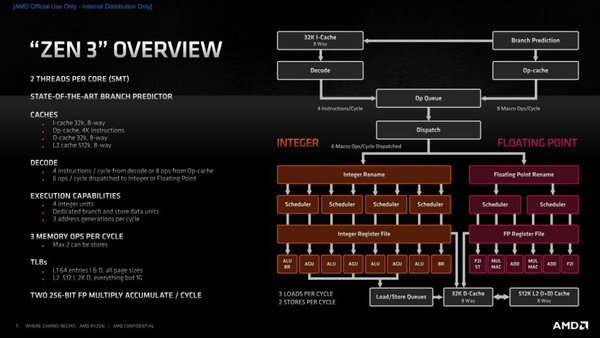 The Ryzen™ 7 5800H is equipped with AMD's "ancestral" Vega 8 512sp core display, which is actually relatively weak compared to the current mainstream 6800H. But fortunately, HX80G has a more powerful independent display: RX 6600M. RX 6600M is AMD's latest mobile GPU. It uses 7nm high-efficiency technology, combined with RDNA 2 architecture, with 8GB GDDR6 memory, 1792 stream processors and 32MB unlimited cache. The performance should not be underestimated. In addition, it can cooperate with AMD's processor and chipset to quickly read cached data, so it will be more beneficial in games.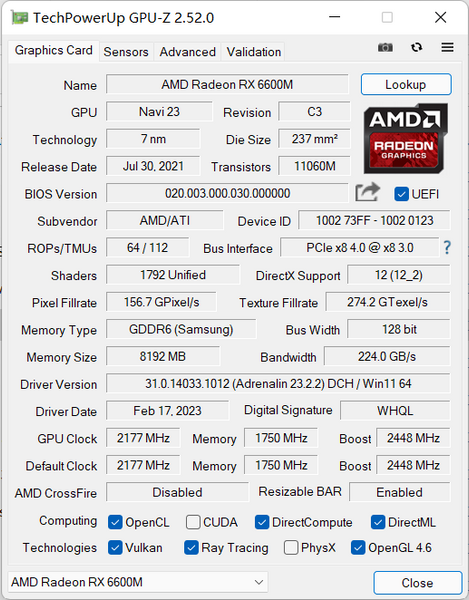 Storage expansion is the strong point of the Mini PC, because it is easy to disassemble and expand freely. Even in the official flagship store, there is a barebones version with no memory and no hard disk available.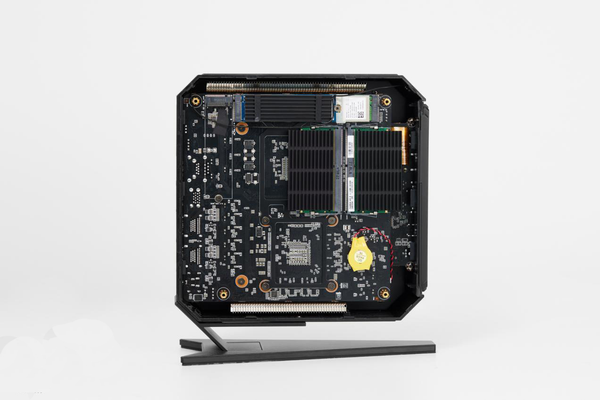 After a simple disassembly, we can see that it provides two DDR4 notebook memory slots inside, and the factory comes with two 16G 3200MHz, forming a 32G dual channel. The hard drive comes with a 512G M.2 solid state. In addition, there is an additional M.2 interface that can be used for capacity expansion, supports NGFF Sata or Nvme protocol, and the speed is up to the level of PCIe 3.0*4.
Hardware Benchmark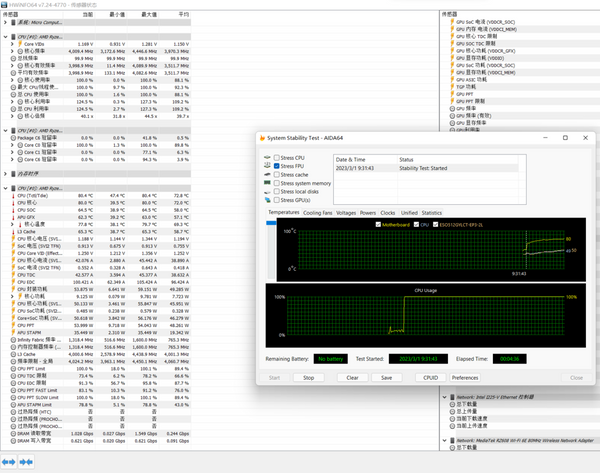 With such a miniature body, will it affect the performance release? Next, we will use AIDA64 for single-baking FPU to see how its performance is released. After 15 minutes, the CPU temperature stabilizes at 80°C. At this time, the CPU power consumption reaches about 54W, which is above the TDP of Ryzen™ 7 5800H.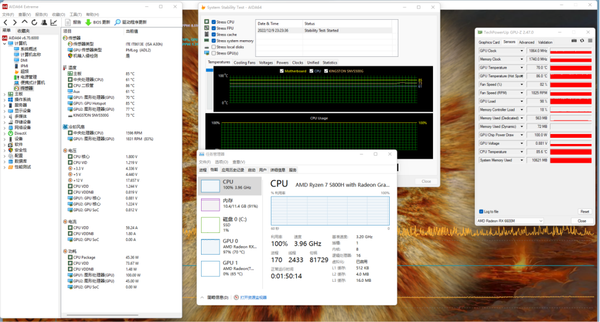 Then we used Furmark donuts for single-baked GPU. After 15 minutes, the core temperature of the RX 6600M stabilized at 69°C, the maximum memory temperature was 80°C, and the power consumption was stable at 100W. It seems that the setting is exactly 100W. The purpose of the power consumption wall is to ensure the quietness during use.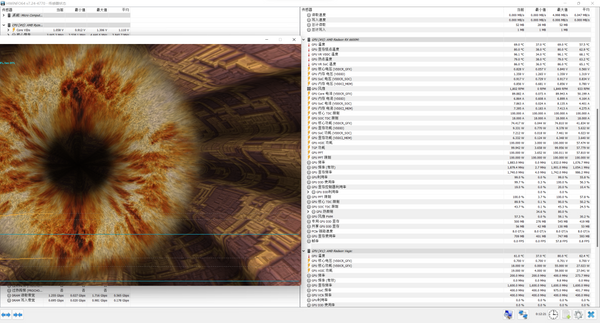 Next, we run the above two software at the same time to simulate the maximum pressure, and run the oven for 1.5 hours. Finally, the full load of the CPU drops to 45W, the temperature is 86 degrees, and the GPU is stable at 100W, 70℃. It is not large, which shows that the heating areas of the two are relatively independent. What impresses me the most is that the HX80G is quite quiet even when it is double-baked. I even have to put my ear close to it to be sure that the fan is actually running.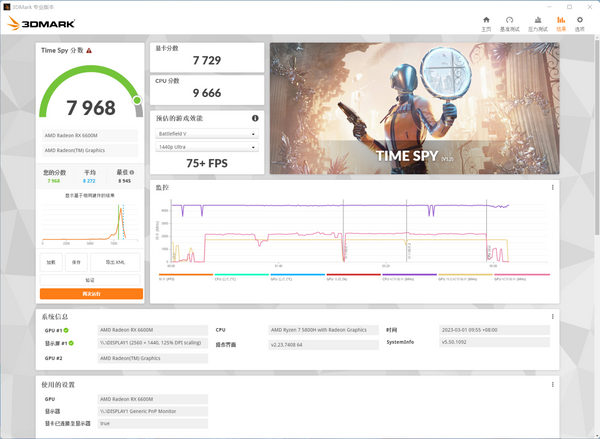 In terms of running points, the 3DMark TimeSpy GPU theoretical score of the RX 6600M graphics card reached 7729 points, which is roughly equivalent to a 100W RTX 3060 laptop GPU. It is more than enough for mainstream games.

In the R20, which represents the theoretical performance of the CPU, it scored 546 points for single-thread and 5041 points for multi-thread. In the R23, it reached 1411 points for single-core and 12762 points for multi-core, roughly equivalent to last year's mainstream gaming notebooks.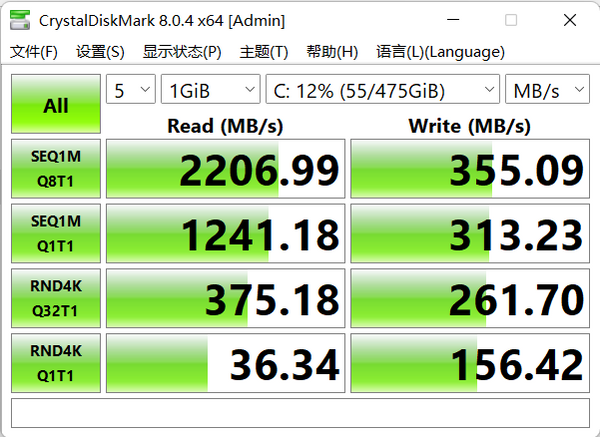 In terms of hard disk, it comes with a 512G M.2 hard disk. If you have performance requirements, you can expand a high-performance hard disk by yourself.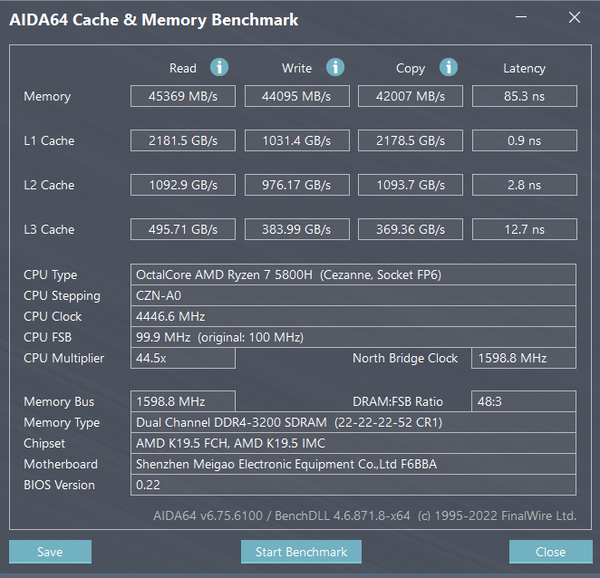 The memory is a standard 3200MHz DDR4 notebook memory, which can be expanded to two 32G to form a 64G dual-channel.
Gaming Performance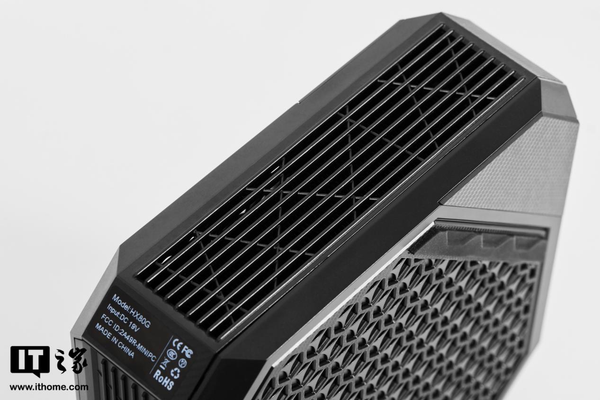 It can be seen from the above that the theoretical performance of MINISFORUM HX80G is roughly equivalent to a mid-to-high-end AMD platform gaming notebook in 2022. So how does it perform in actual games? We will open all the following games to 2K resolution + high quality for testing, and open to balanced file FSR if there is FSR.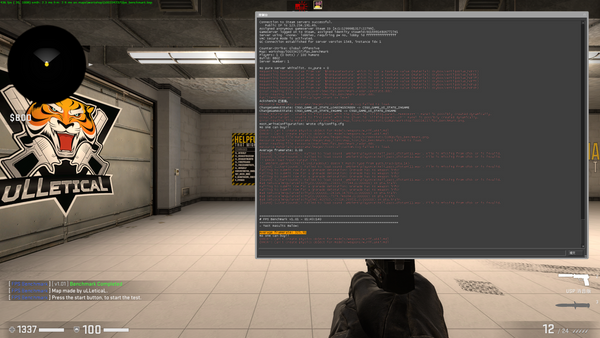 The first is e-sports games. We selected four mainstream e-sports games: "CS:GO", "PUBG Mobile", "NARAKA: BLADEPOINT" and "APEX Legend" for testing. It is measured that in "CS:GO", running Benchmark can reach an average of 325 frames, which is enough to run a full 2K165Hz gaming screen.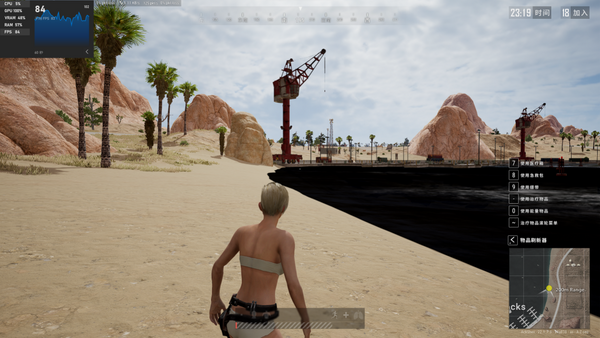 For PlayerUnknown's Battlegrounds, the actual measurement can run to 83 frames under the highest quality, which can satisfy the high-quality and smooth game. If you want to play with e-sports-level frames, you can consider adjusting to the commonly used "three extreme" picture quality.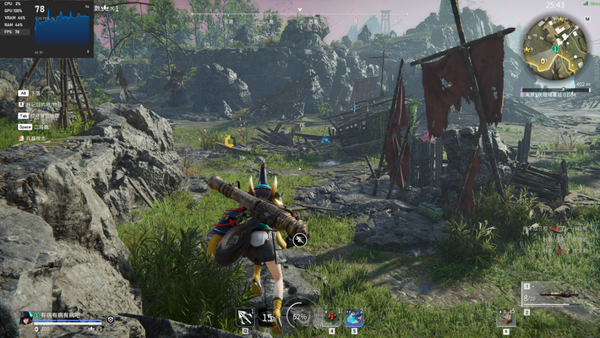 In the domestic martial arts eating chicken game "NARAKA: BLADEPOINT", the high-definition picture can reach an average of about 75 frames. This game is really not very friendly to AMD.
In "APEX Legend", the average number of frames can reach more than 90 frames, which can also satisfy 2K smooth play.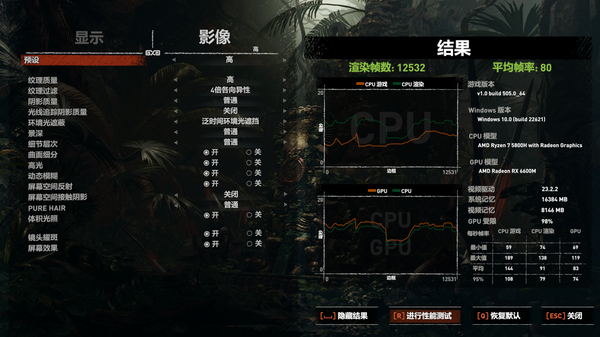 Judging from our tests above, most of the mainstream online games can be played in 2K high-definition. Next, we will test some mainstream AAA games. In "Shadow of the Tomb Raider", under 2K high special effects, the frame rate is as high as 80 frames, so it is not a problem to play smoothly.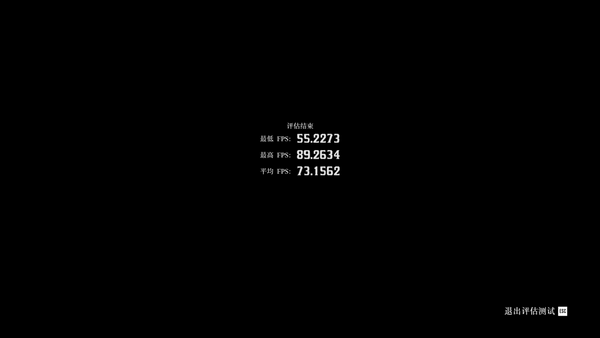 In the classic AAA Games "Red Dead Redemption 2", MINISFORUM HX80G also showed good results. It can run to an average of 73 frames under 2K high-definition quality, and the gaming experience is very smooth.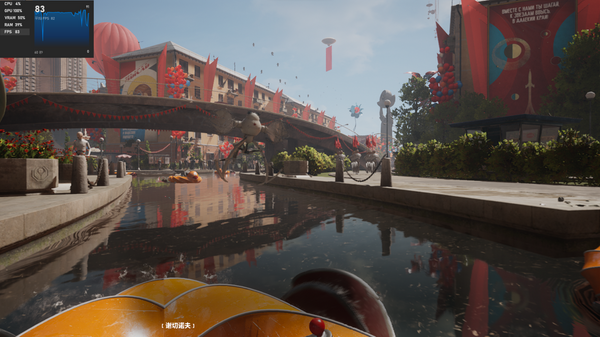 The author also tested the newly launched AAA Games "Atomic Heart". The actual measurement can achieve more than 80 frames of play even in the complex environment of the opening scene.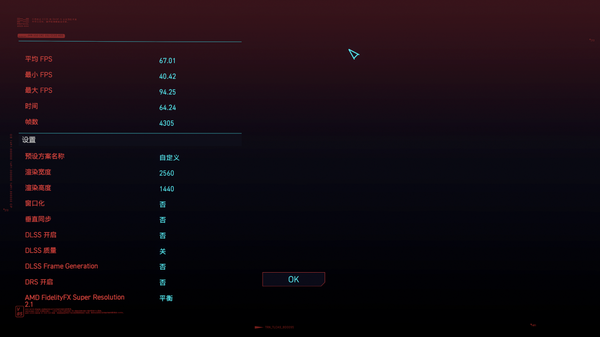 Finally, let's take a look at the most stressful "Cyberpunk 2077". Running Benchmark under 2K high-definition quality can reach an average of 67 frames, which can satisfy smooth play.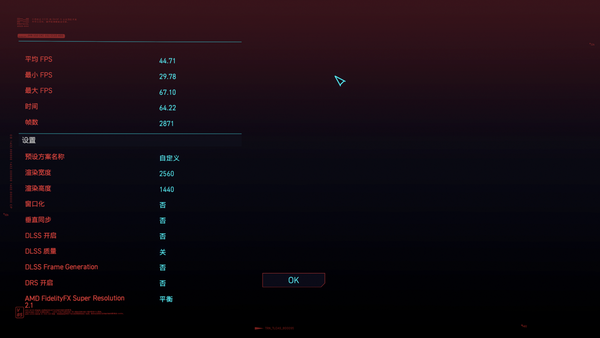 But if you want to turn on ray chasing, the frame rate will drop to an average of about 45 frames. ray chasing is not AMD's strong point, so don't force it to play games with A card.
In general, MINISFORUM HX80G can satisfy almost all games to play in 2K, or play in 1080P with e-sports frame rate. For consumers who want to play games but don't want to buy a bulky desktop, MINISFORUM HX80G is a "just right" choice.
Software Performace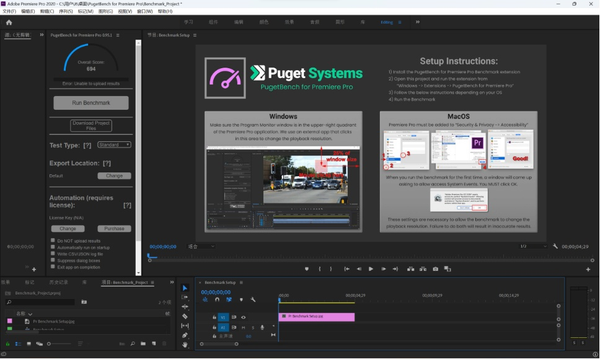 In fact, the purchasers of many Mini PCs are major enterprises, because the Mini PCs are small, space-saving, quiet and undisturbed. Therefore, its office performance and creative production capacity are also particularly important. Next, let's test the office production capacity of HX80G. In Adobe Premiere, which is commonly used by creative workers, we turn on GPU acceleration and then use PugetBenchmark for testing. The final score is 894 points, which can meet the clipping of regular 4K video.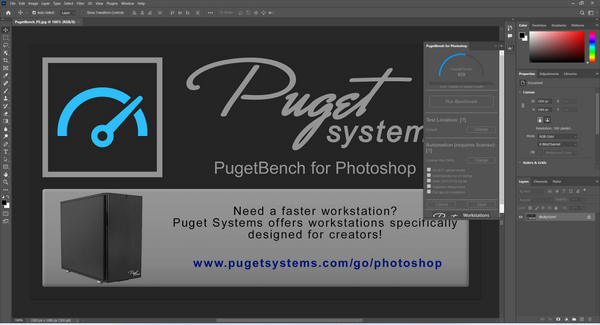 In the commonly used graphic design software PS, we also use Puget Benchmark for testing. The final score is 839 points, and some more complex special effects can also be produced.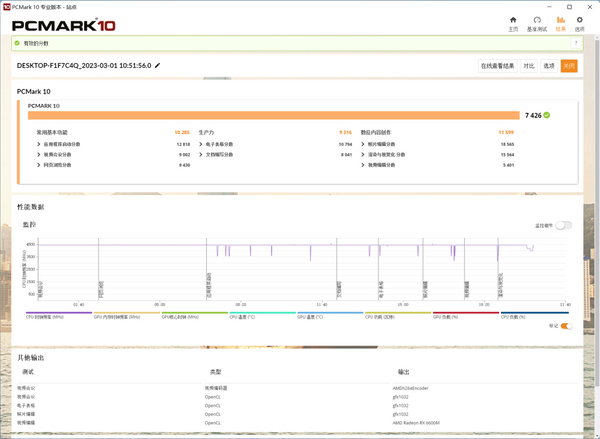 The above high-intensity software can run, so PCMark10, which represents comprehensive office performance, is even more so. The score is as high as 7426 points. The daily office is quite smooth and quiet. It is very suitable for creative work to be used on the workstation. .
Conclusion
The author is still very interested in Mini PCs recently. Especially for Mini PCs equipped with USB4 interface, it can realize graphics expansion and play AAA Gamess. But I didn't expect MINISFORUM's HX80G to directly make this kind of solution meaningless. Its performance is basically equal to the 6800H Mini PC + external RTX 3060 , but the integration is stronger and no additional cables are required. You can play AAA Gamess out of the bag, and you can also work quietly. For players who want a compact gaming computer, or want a living room game console, the HX80G will be a good choice.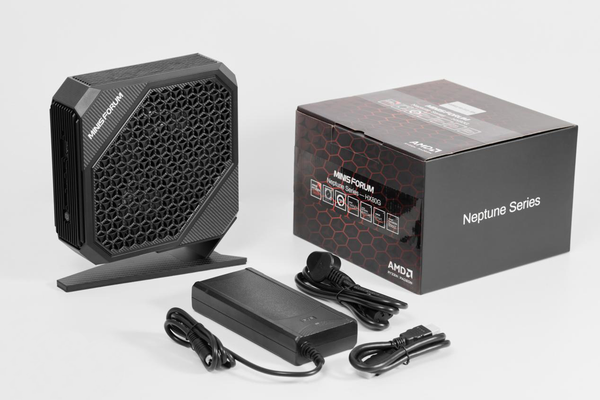 At present, MINISFORUM HX80G is available in two versions, one is a barebone version without memory and hard disk, and the other is a dual-channel 32G+512G solid-state version. If you know computers and have some hands-on skills, then the author recommends that you buy the barebones version and install it yourself. The premium is not serious, and the price/performance ratio is outstanding. If you are interested, you can go to buy it.
In addition to HX80G, MINISFORUM also provides HX99G with more powerful performance, the CPU is upgraded to R9-6900HX, and the interface also adds two full-speed USB4 interfaces, which can quickly transfer files or connect graphics card expansion docks.
For users whose needs are daily audio-visual and online class office, the MC560 equipped with a camera + dual-camera and dual-mic will be a good choice. Its appearance design is more fresh and fashionable, and it can be well integrated into the environment in the office and study.