Mechrevo S Mini PC Review: Ryzen 7 7840H Inside - Benchmarking and Analysis
In the ever-evolving landscape of technology, Mechrevo has emerged as a formidable force, poised to redefine the paradigms of gaming notebooks, ultraportable laptops, and Mini PCs in 2023. As the herald of a revolution, Mechrevo is striding confidently towards a future where high-end computing experiences need not come with exorbitant price tags. With innovation as its guiding star, Mechrevo's latest offering, the next-generation Mechrevo S Mini PC, is a testament to this vision. This remarkable device has not only managed to bridge the gap between performance and affordability but has also redefined the market by bringing the formidable Ryzen 7 7840H barebones system into the enticing price range of just $350.
In an era where computing power and versatility are essential, Mechrevo's bold move underscores the company's commitment to democratizing technology. This review article delves into Mechrevo's audacious journey, unveiling the technological marvels that have enabled the creation of the Mechrevo S Mini PC. From its cutting-edge specifications to its sleek design and the unparalleled value it offers, we explore how Mechrevo is setting a new standard for high-performance computing at a price that beckons even the budget-conscious consumer. Join us on this expedition as we dissect the future of computing, one Mechrevo innovation at a time.
Unboxing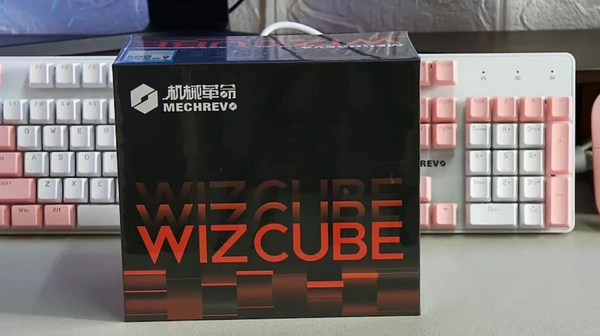 The latest iteration of the Mechrevo S Mini PC represents a significant evolution from its predecessor, the 7735HS version. The transformation is evident right from the moment you lay eyes on its packaging. The new Mini PC arrives in a remarkably compact box, small enough to fit in the palm of your hand. This packaging hints at the sleek and enticing design concealed within, promising a compact and alluring computing solution.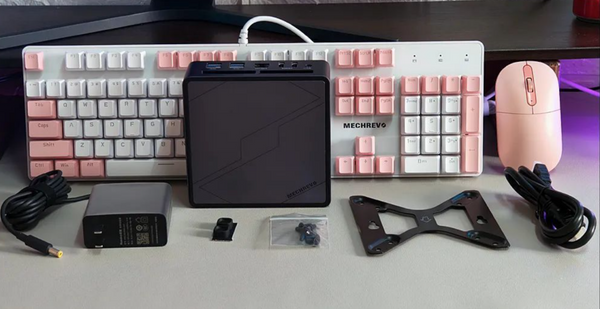 Inside the package, Mechrevo doesn't skimp on essential accessories. Alongside the main unit, you'll find a 120W power adapter, ensuring robust performance. They've also included a generous 1-meter HDMI video cable for versatile connectivity, a wall bracket for convenient mounting, securing screws to keep everything in place, and two spare foot pads to ensure long-lasting stability. This comprehensive package underlines Mechrevo commitment to providing a complete and user-friendly experience for their customers.
Design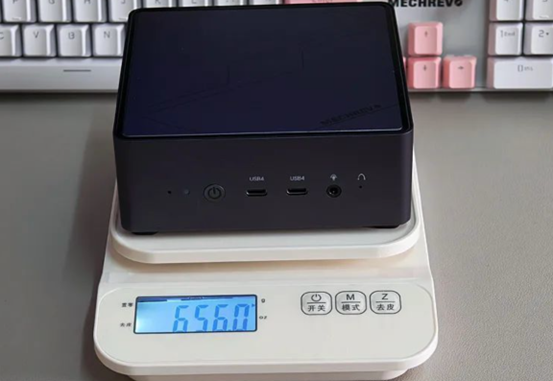 The Mechrevo S Mini PC boasts compact and space-efficient dimensions, measuring just 130 × 126 × 47.2mm, equivalent to approximately 0.8 liters in volume. Despite its diminutive size, it doesn't compromise on substance, weighing in at a modest 656 grams, inclusive of the weight of one memory module and a hard drive. This lightweight and small form factor make it an ideal choice for those seeking a portable and powerful computing solution.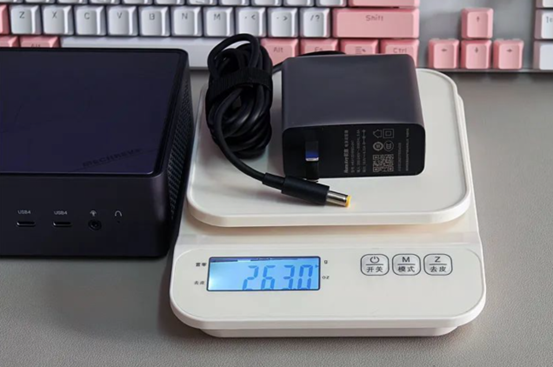 The 120W power adapter hails from Huntkey, boasting a modest weight of 263g. This power supply has garnered recognition in tech circles, with a notable clientele base this year comprising primarily of high-performance core display Mini PCs. Its reliability and efficiency have made it a go-to choice for those seeking a dependable power source for their computing needs.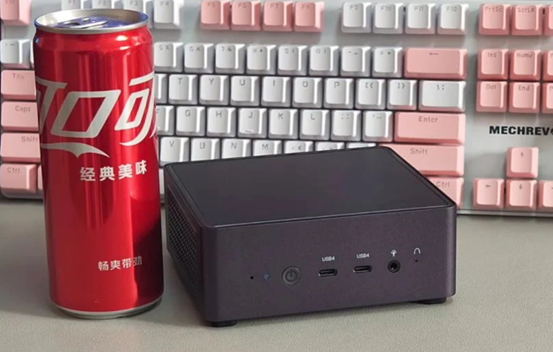 The latest iteration of the Mechrevo S sets itself apart from its predecessor, the previous generation Mechrevo S, through a series of significant design enhancements. This revamped model introduces a fresh mold design, featuring an all-metal integrated body frame. Notably, even the top cover has been crafted from metal, aligning seamlessly with the rest of the laptop's structure. To add an extra layer of refinement, a meticulous frosting process has been applied, resulting in a laptop that not only looks more visually appealing but also boasts an improved tactile experience. These thoughtful design steps have culminated in a device that not only performs admirably but also exudes a sense of premium craftsmanship.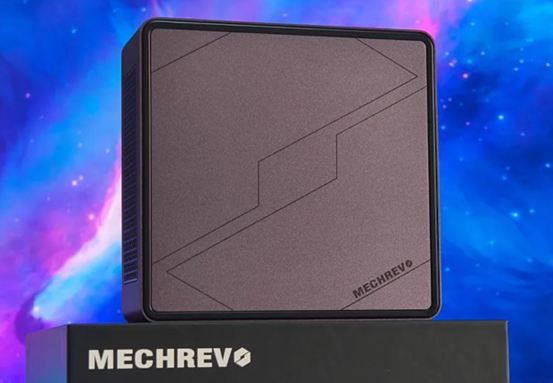 The top cover of the new Mechrevo S boasts a subtle yet distinctive feature: a set of sleek lines delicately tracing the contours of the Mechrevo logo. This subtle touch adds a touch of sophistication to the laptop's design, preventing it from appearing too monotonous. However, one can't help but wonder about the potential for further enhancement. Imagine if these lines were transformed into a hollow design, concealing a mesmerizing, pulsating breathing light within. The result would be nothing short of breathtaking. It's my sincere hope that future generations of Mechrevo products will incorporate a similar mesmerizing design, one that transcends the ordinary and immerses users in a world of captivating aesthetics.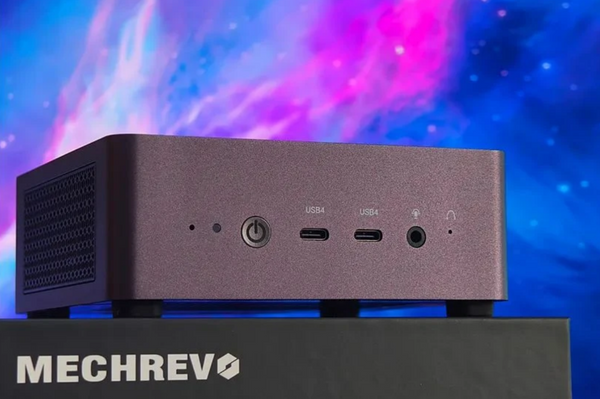 The product's interface is ingeniously distributed across both the front and rear sides of its sleek fuselage. On the front panel, users will find a convenient power switch for easy access, along with two full-featured USB4 ports that offer versatile connectivity options. Additionally, there's an integrated audio interface, ensuring that you can seamlessly connect your audio devices. For those rare moments when a reset is necessary, a discreet reset hole is also thoughtfully placed on the front panel for your convenience. This thoughtful arrangement of interfaces exemplifies the product's commitment to user-friendly functionality.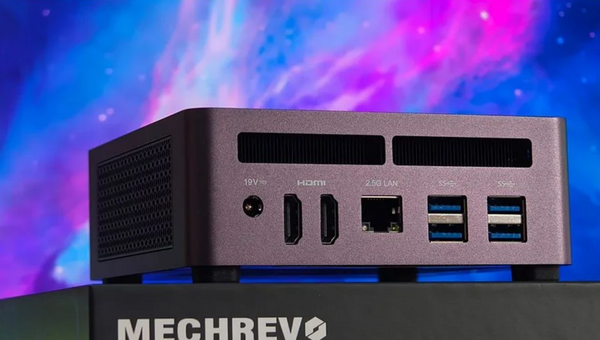 Located at the rear of the fuselage, you'll find a versatile array of connectivity options. This includes a 19V power jack to keep your devices charged and ready for action. In addition, there are two HDMI2.1 ports, ensuring you can easily connect to high-definition displays for an immersive visual experience. For lightning-fast data transfers and network connectivity, the fuselage boasts two 2.5G network ports. Furthermore, with four USB3.2 Gen2 interfaces, operating at a blazing 10Gbps speed, you have ample options to connect various peripherals and accessories, making this system a hub of connectivity and convenience.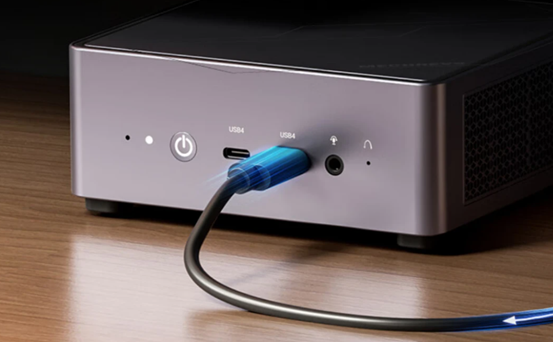 The two full-featured USB4s on the Mechrevo S have garnered a positive response from users, and for good reason. With a blazing transmission speed of 40Gbps, support for DP video output, and a robust 100W PD power supply capability, these ports offer a versatile range of functionalities. It's important to note that due to peak power consumption exceeding 100W, users will need a 100W or higher PD adapter to ensure stable operation. Moreover, the device supports PD one-line connection for external charging power up to 15W. When combined with the two HDMI ports at the back, users have the flexibility to create a quad-screen display environment whenever needed. Nevertheless, for the sake of enhanced practicality and aesthetics in connectivity, some users may find it more convenient if Mechrevo S were to swap the positions of one USB4 port at the front and one USB-A port at the back.
However, considering a more practical and aesthetically pleasing perspective, it would be even more favorable if the Mechrevo S could interchange the locations of the front USB4 and the rear USB-A ports.

On both sides of the fuselage, there are large-area [skylights], covered with metal dust-proof nets with a floral charm, which are transparent from north to south, ensuring sufficient air circulation efficiency and providing a more solid guarantee for heat dissipation.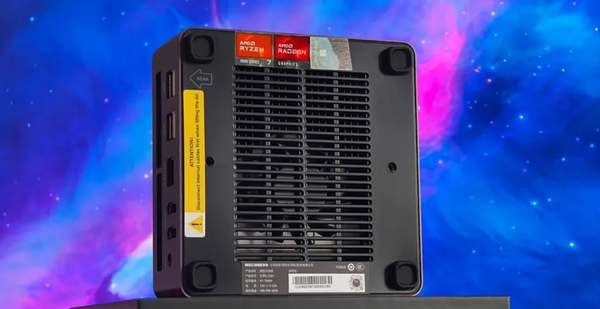 At the bottom of the fuselage, the four corners are equipped with higher foot pads, and the middle is also a large-area air intake hole. Combined with the fan inside, it can better assist the memory hard disk in cooling. There are also wall-mounted screw holes here. Combined with the wall-mounted bracket, it can be hidden behind the monitor at ordinary times , making the desktop more concise.
Disassemble and inspect the internal Design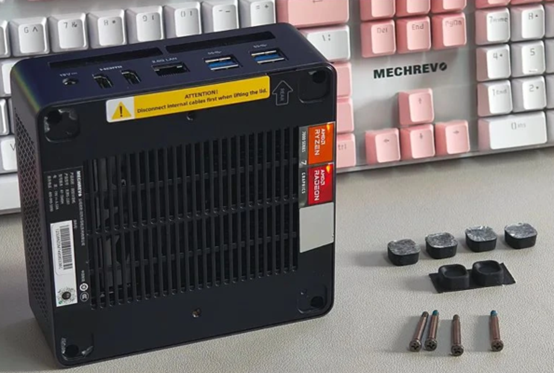 After reading the appearance, let's study the internal design of New Mechrevo S. The screws of this product are hidden in the 4 foot pads of the bottom cover. If you want to disassemble the machine, you need to buckle the foot pads first. Considering that the foot pads are easy to de-gumming after repeated disassembly, the official will provide 2 extra spare foot pads. After unscrewing the 4 super long screws, the bottom cover can be pried off at the special gap indicated along the edge of the bottom cover.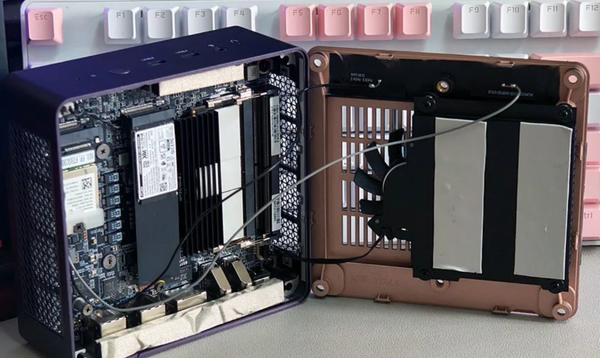 Since the frame and top cover of the new Mechrevo S are made of metal, in order to ensure the overflow of wireless signals, the product fixes the antenna of the wireless network card to the inner layer of the bottom cover. There is also an active cooling fan here, which is connected to the motherboard . There is also a cable connected between the bottom cover, please don't pull it hard when you lift the bottom cover.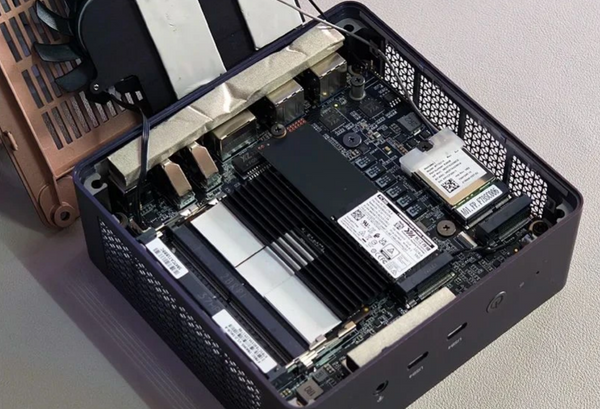 The bottom cover cooling fan, situated directly above the SSD, features a layer of heat-conducting silicone grease carefully applied to its surface. This specialized grease serves a crucial role in efficiently dissipating the heat generated by the SSD chip. Through its remarkable heat-conducting properties, this silicone grease facilitates the rapid transfer of thermal energy away from the SSD, ensuring optimal operating temperatures and enhanced performance.
The latest Mechrevo S laptop boasts a robust set of features for power users and gamers alike. With two DDR5 memory slots and two M.2 hard drive slots, this laptop offers impressive storage and memory options to meet your computing needs. Additionally, nestled beneath the M.2 slots, near the frame, you'll find the RZ608 wireless network card, ensuring seamless connectivity and high-speed internet access. This combination of memory, storage, and networking capabilities makes the Mechrevo S a formidable choice for those seeking a versatile and high-performance computing experience.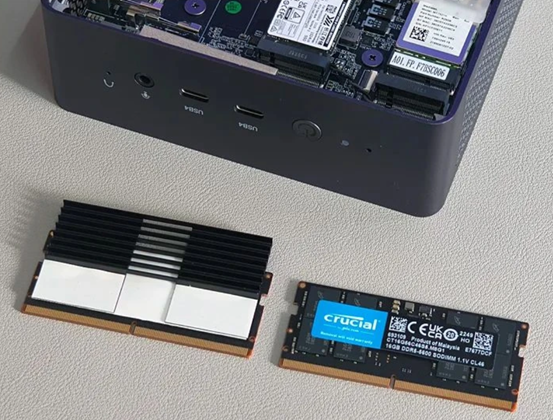 It's important to take note that when purchasing the customized 16GB version of the new Mechrevo S, it ships with a single 16GB DDR5-5600 memory as its standard configuration from the factory. However, this choice can result in a significant loss of over 30% in 3D performance. The reasoning behind this standard setup seems to be practical, as opting for an 8GB+8GB configuration might lead to wastage in case users plan to upgrade in the future, necessitating the replacement of both modules. Consequently, it is highly advisable to either purchase the 32GB version directly or consider upgrading to dual 16GB memory modules to harness the benefits of a dual-channel mode. This ensures optimal performance and future-proofing for your Mechrevo S.
In fact, the official pricing of Mechrevo is also very realistic: The 16GB+512GB version of Mechrevo S is $467, the 16GB+1TB version is $498, the 32GB+1TB version is $546, and the 32GB+2TB version is $594. After we purchased the barebone version (2,699 yuan), we upgraded it with a single memory and hard drive. The cost is about the same as the official quotation. Additionally, the official customized version also saves the trouble of installing the system driver by yourself, which is quite reliable.
Compared with other brands of Mini PCs on the market, New Mechrevo S also has two core competitiveness, which is that liquid gold heat dissipation is added to the surface of the CPU, which has more efficient heat conduction capabilities.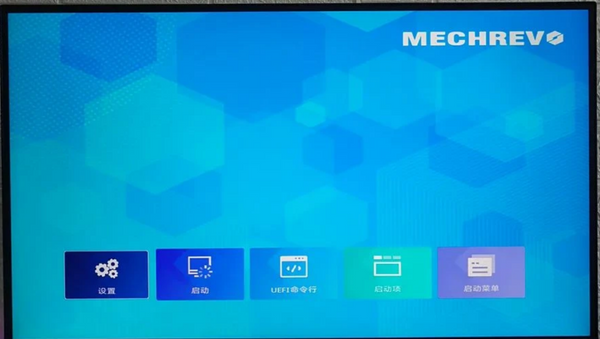 Furthermore, the Mechrevo S Mini PC boasts a user-friendly graphical multi-language BIOS, ensuring a hassle-free experience for users. To gauge its performance, we conducted rigorous tests in a controlled environment at a stable room temperature of 27 degrees Celsius. Notably, we enhanced its capabilities by upgrading the memory to a robust 32GB, activating the performance mode, and allocating a generous 8GB of video memory.
Performance and Benchmarks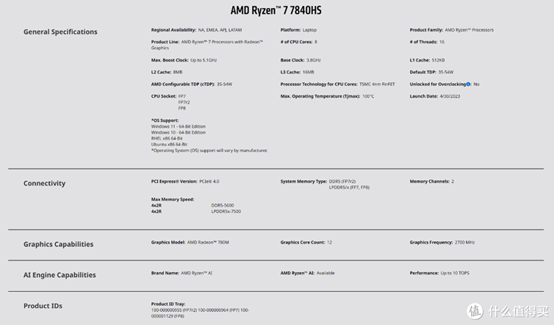 The biggest selling point of the new Mechrevo S Mini PC is the upgrade to AMD's latest Ryzen 7 7840H processor. Yes, that's right, it's 7840H not 7840HS. However, the H series is customized by AMD to facilitate the promotion of the domestic market. Judging from the detailed parameter comparison on AMD's official website, H and HS are essentially the same chip, so there is no need to take it seriously.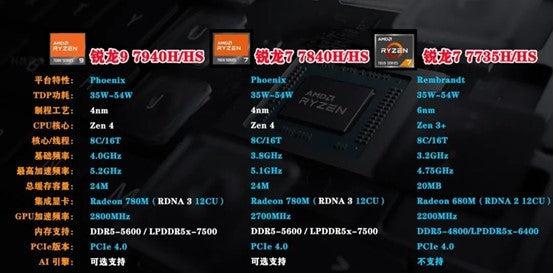 The Ryzen 7 7840H takes advantage of TSMC's cutting-edge 4nm process technology, showcasing a remarkable advancement in its design. Both the CPU and GPU core display undergo a simultaneous enhancement, now featuring the upgraded Zen4 and RDNA3 microarchitectures. This results in not only a higher main frequency and a more capacious cache but also seamless support for faster memory. An exciting debut is made with the Ryzen AI engine, marking a significant leap in all facets when compared to its forerunners from the Ryzen 6000 series.
The Ryzen 7040 platform brings a noteworthy enhancement to multimedia capabilities by incorporating support for the AV1 hardware codec. This marks a significant milestone as Ryzen catches up with the Core platform, ensuring a seamless and immersive multimedia experience. This stride forward in technology is accomplished without any hint of regret, solidifying Ryzen's position in the competitive landscape.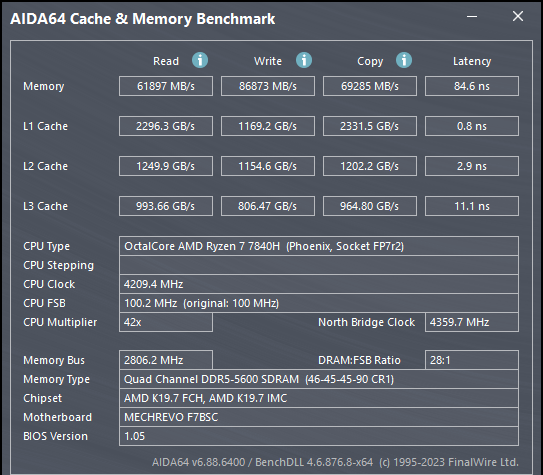 The tested Mechrevo S is equipped with two 16GB DDR5-5600 memory modules sourced from Yingruida, configured in a dual-channel mode. Through testing, the memory demonstrated impressive performance metrics, boasting read, write, and copy speeds of 61.8GB/s, 86.8GB/s, and 69.2GB/s respectively. Moreover, the memory showcased a relatively low latency of 84.5 ns, further enhancing its overall efficiency and responsiveness.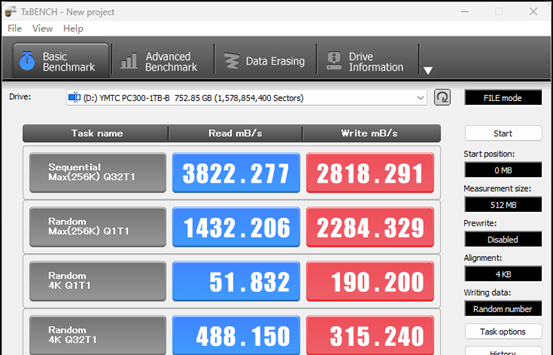 The standard hard drive is manufactured by Yangtze Storage and belongs to the PC300 model series, boasting a generous capacity of 1TB. Demonstrating impressive performance metrics, it showcases measured read and write speeds of 3800MB/s and 2800MB/s, respectively. This storage solution establishes itself as an entry-level PCIe 4.0 SSD, catering to users seeking both substantial storage space and commendable data transfer rates.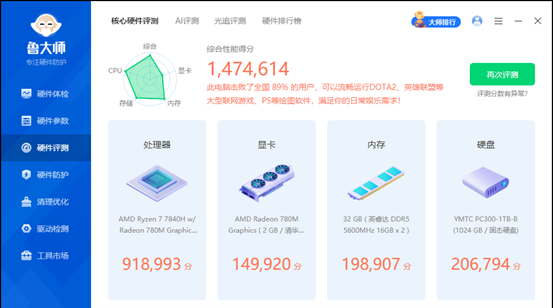 The subsequent step involves the targeted benchmarking procedure. The latest iteration of Mechrevo S has demonstrated an impressive performance, attaining a remarkable score of 1.47 million in the Master Lu test. This accomplishment positions it ahead of 89% of computer users within the nation, showcasing its exceptional capabilities and surpassing expectations.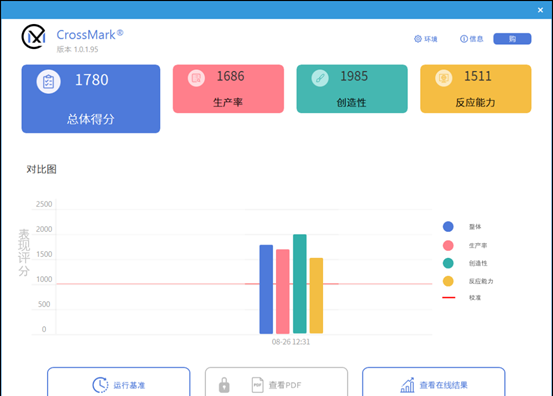 In the CrossMark test, the overall score tallied at 1780 points, with distinct evaluations for productivity, creativity, and responsiveness. The productivity score reached an impressive 1686 points, reflecting the candidate's strong work ethic and efficiency. Creativity soared to 1985 points, highlighting their innovative thinking and problem-solving abilities. Meanwhile, the responsiveness score stood at 1511 points, showcasing their promptness and adaptability in addressing tasks and challenges.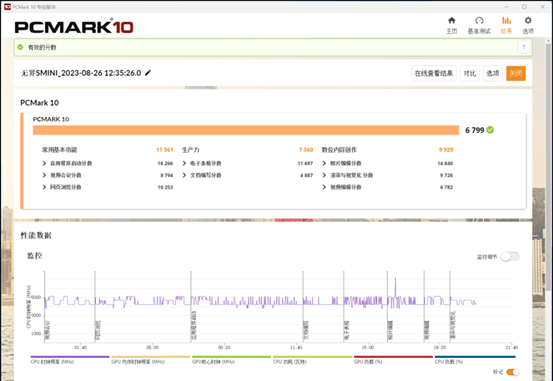 The Mechrevo S demonstrates outstanding productivity in the PCMark 10 modern office test, achieving an impressive score of 6799. This exceptional performance underscores its capabilities as a powerhouse for various office tasks, making it an ideal choice for users seeking top-tier efficiency and performance.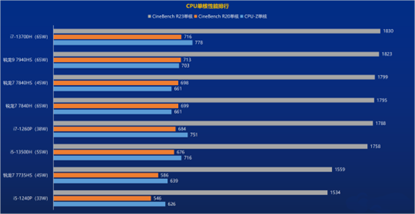 Through a horizontal comparison of CPU-Z and CineBench with other common hardware platforms of Mini PCs, the Ryzen 7 7840H processor (65W) equipped with the new Mechrevo S has a CPU single-core performance that is slightly lower than the 13th generation Core i5-13500H. On the 65W Ryzen 9 7940HS and i7-13700H.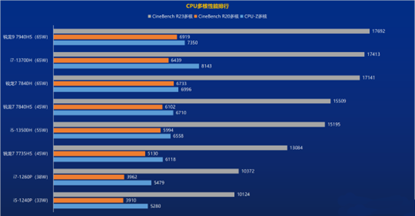 When it comes to CPU multi-core performance, the Ryzen 7 7840H holds its ground impressively. It may fall slightly short of the i7-13700H, but it maintains a significant lead over the i5-13500H. The real strength of the Ryzen 7 7840H lies in its eight Zen4 large cores, a clear advantage that continues to shine. These cores enable the processor to handle multi-threaded tasks with finesse, making it a formidable choice for users who demand robust performance from their computing devices.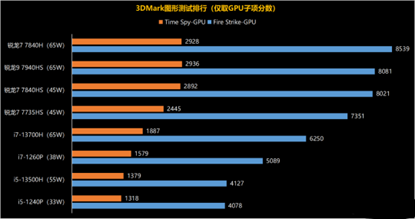 The 3DMark graphics test is the advantage battlefield of the Ryzen platform. With the blessing of dual-channel memory, the running score data of New Mechrevo S even surpassed the Ryzen 9 7940HS we tested earlier. The reason may be that the gain of the upgraded official version driver can crush the 13th generation Core-integrated Iris Xe. The 96-core display is infinitely close to the level of the early GTX 1650.
Gaming Performance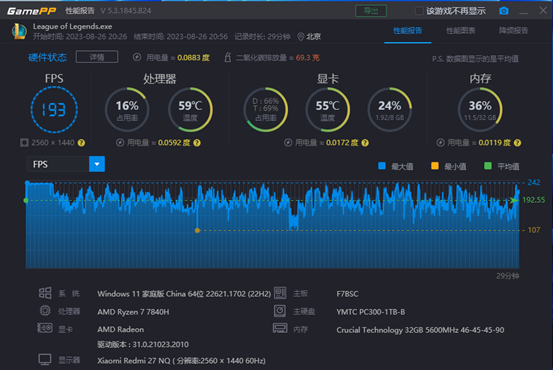 In the game test session, in "League of Legends", with 2K resolution and the highest image quality, after a game of nearly 29 minutes, the average frame number of New Unbound S can reach 193FPS, the highest frame number is 242FPS, and the lowest frame number is 107FPS, which is extremely smooth. .

In the realm of AAA game performance, the standard resolution is typically set at 1080P. When it comes to the acclaimed title "Far Cry New Dawn," which boasts high-quality visuals, the game tends to maintain an average frame rate of 44FPS. However, for those seeking even smoother gameplay or willing to sacrifice some visual fidelity, it's possible to crank up the performance to an impressive 51FPS by lowering the graphical settings to their minimum, making for a more fluid gaming experience.

In "Assassin's Creed Odyssey," the average frame rate in high image quality settings hovers around 44 frames per second (FPS). However, for gamers looking to maximize performance, a significant boost can be achieved by adjusting the game's settings to low image quality, where the frame rate can soar to a smooth and impressive 65 FPS. This flexibility allows players to strike a balance between stunning visual fidelity and fluid gameplay, ensuring an enjoyable gaming experience tailored to their preferences and hardware capabilities.

In "Assassin's Creed Valhalla," players can expect an average frame rate of 39 frames per second (FPS) when playing in high-quality settings. However, for those looking to prioritize performance over graphical fidelity, the game offers the flexibility to adjust settings to achieve a smoother experience, with frame rates reaching up to 63 FPS in low-quality mode. This choice allows gamers to tailor their gaming experience to their hardware capabilities and personal preferences, ensuring an enjoyable journey through the Viking world of Valhalla.

In the realm of gaming performance, "Shadow of the Tomb Raider" offers a dynamic range of frame rates to cater to varying preferences and hardware capabilities. When played in high-quality settings, the game maintains an average frame rate of 42 frames per second (FPS). However, for those seeking a smoother and more responsive experience, the option to switch to low-quality settings is available, where the frame rate can be elevated to a brisk 58 FPS. This flexibility ensures that players can tailor their gaming experience to strike the perfect balance between stunning visuals and fluid gameplay.
In "Horizon Zero Dawn," players have the option to tailor their gaming experience to their preferences. When prioritizing quality, the game delivers an average frame rate of 34 frames per second (FPS), ensuring stunning visuals and intricate details that immerse players in its breathtaking world. However, for those who prioritize a smoother and more responsive gaming experience, the frame rate can be boosted to an impressive 55 FPS when performance becomes the top concern. This flexibility allows gamers to strike the perfect balance between visual fidelity and gameplay fluidity, ensuring that "Horizon Zero Dawn" caters to a wide range of gaming preferences.
"Red Dead Redemption 2" sets a high standard when it comes to gaming quality, prioritizing a seamless and immersive experience for players. The game's impressive optimization allows it to achieve an average frame rate of 51 frames per second (FPS), ensuring that gamers can enjoy its stunning visuals and captivating storytelling without compromising on performance. This commitment to quality and performance has solidified "Red Dead Redemption 2" as a benchmark title in the world of gaming, showcasing what can be achieved when meticulous attention is paid to both technical aspects and narrative excellence.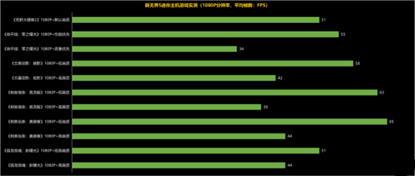 In other words, New Mechrevo S has the CPU performance close to the 13th generation Core i7-13700H and the game power of GTX 1650. For a Mini PC with only 0.8L, this performance is amazing enough, right?
Heat Dissipation and Noise Measurement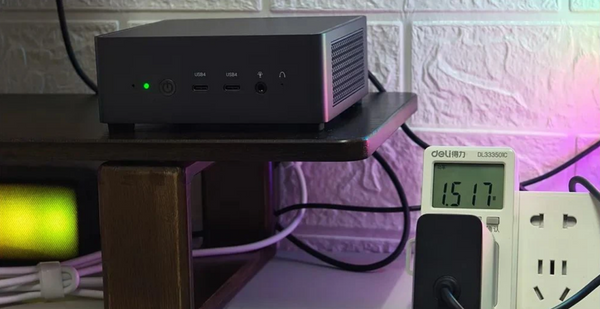 In terms of power consumption and heating noise that everyone is more concerned about, the performance of the new Mechrevo S is also above the standard.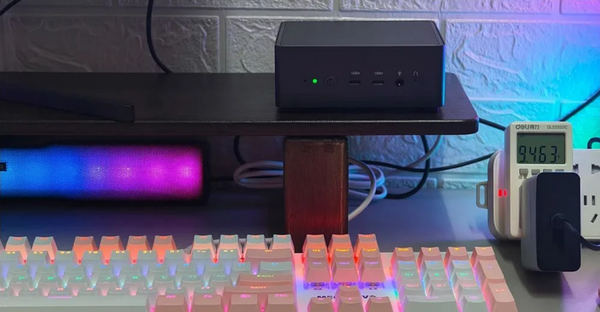 The power consumption of this product in the sleep state is only about 1.5W. After entering the standby state of the system desktop, the power consumption of the whole machine can be suppressed to less than 10W. This is still in the case of connecting a U disk and a mechanical keyboard with backlight.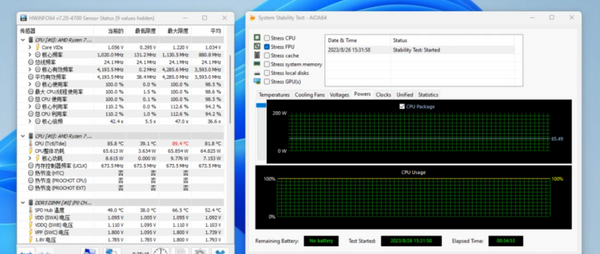 When New Mechrevo S is running AIDA64 FPU single-baking, the CPU power consumption can always be stabilized on a straight line of 65W. At this time, the temperature is less than 86 degrees, and the main frequency can also be maintained at a high level of 4.2GHz. The power consumption of the whole machine is 94W. The noise next to it is 53 decibels, and when it is moved closer to the user in front of the screen, it can be reduced to about 44 decibels.

Perform FPU and FurMark double-baking at the same time, the power consumption of the CPU package remains unchanged at 65W, but the CPU temperature will drop below 80 degrees, the main frequency will drop to 2.8GHz, the GPU frequency will be 1.53GHz, and the memory frequency will be 2.8GHz throughout. It is further increased to more than 100W.

Although the new Mechrevo S uses a metal body with better thermal conductivity, during the long-term baking process (test conducted at 20 minutes), areas such as the front panel and top cover of the machine that may often come into contact with the user are very cool. , only 30 degrees to 32 degrees, not hot at all, the temperature is mainly concentrated at the heat dissipation outlet on the back, but we usually can't feel this area.
Our Verdict
In conclusion, the Mechrevo S Mini PC impresses with its compact design, premium build quality, and powerful performance. Its small form factor makes it a portable and versatile computing solution, while the all-metal integrated body frame and meticulous design touches add a sense of sophistication and premium craftsmanship. While the laptop's design could benefit from further aesthetic enhancements, it remains an attractive and functional device.
The Mechrevo S offers a wide range of connectivity options, with a thoughtful arrangement of interfaces for user-friendly functionality. The inclusion of USB4 ports with high transmission speeds and power delivery capabilities enhances its versatility. The addition of liquid gold heat dissipation to the CPU surface ensures efficient heat conduction, contributing to the device's overall performance. 
Under the hood, the Ryzen 7 7840H processor shines with its advanced microarchitecture, delivering impressive performance in both CPU and GPU tasks. The memory and storage options are robust, and users have the flexibility to choose configurations that suit their needs. However, potential buyers should consider upgrading the memory configuration for optimal performance.
In terms of gaming performance, the Mechrevo S demonstrates the ability to handle a range of AAA titles smoothly, thanks to its capable CPU and GPU. The device's power consumption and noise levels are reasonable, making it suitable for various usage scenarios.
Overall, the Mechrevo S Mini PC offers a compelling package for users who value portability, performance, and premium design. It competes favorably in its category and presents a strong case for those seeking a high-performance, compact computing solution.