Minisforum UM690S Review: AMD Ryzen 9 6900HX Powered Mini PC
In the ever-evolving landscape of Mini PCs, the year 2022 saw the Minisforum UM690 rise to unprecedented acclaim, making waves in the market with its formidable arsenal. Sporting the awe-inspiring AMD Ryzen 9 6900HX mobile processor, complemented by a state-of-the-art liquid gold heat dissipation system, the UM690 redefined the standard for performance and set a new bar for its contemporaries. As we ushered in 2023, Minisforum didn't rest on its laurels. They introduced the UM773 series, now equipped with the Ryzen 7 7735HS, and an exquisite Sakura limited edition that captured the hearts of countless female gamers.
With the year drawing to a close, Minisforum didn't miss a beat, launching their latest creation, the UM690S, a special Mini PC that added an 'S' suffix to its name. This addition begs the question: can the once-reigning chip king, armed with AMD, make a breakthrough in the $280 price market? As Minisforum expands its product lineup with the UM480XT, UM560XT, UM773, and UM790 Pro, alongside the eagerly anticipated UM780/790 XTX, they offer installation solutions catering to users with diverse budgets.
In this comprehensive review, we delve into the subtle yet potentially game-changing nuances that the UM690S introduces with its 'S' designation. Join us as we explore the potential for Minisforum to continue setting the pace in the ever-competitive Mini PC market.
Appereance
The Minisforum Venus family of Mini PCs offers a versatile range of usage modes, with the UM790 Pro being one of the notable options. These Mini PCs are designed to maximize flexibility and convenience, boasting three primary usage modes. They can be laid flat on a surface, mounted on a wall, or conveniently erected using the included desktop stand. This capability to stand the PC upright not only enhances the aesthetics of your workspace but also helps save valuable desktop space, making them an excellent choice for those seeking both functionality and a sleek, space-efficient design.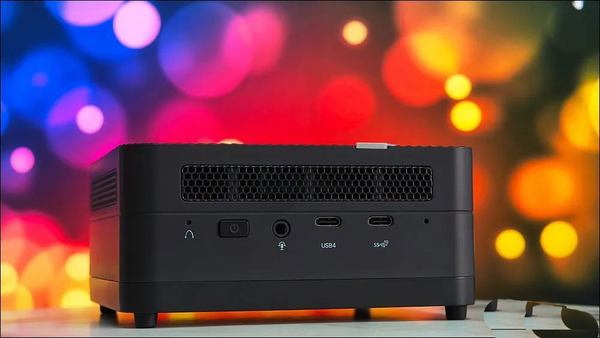 The recently introduced UM690S has undergone a significant alteration, transitioning from a [triple-mode] to a [dual-mode] display configuration. This change was necessitated by the replacement of its bottom cover, which resulted in a notable increase in thickness, growing from 48mm to 56.7mm. Unfortunately, this transformation has rendered the UM690S incompatible with the original desktop stand designed for its previous iteration.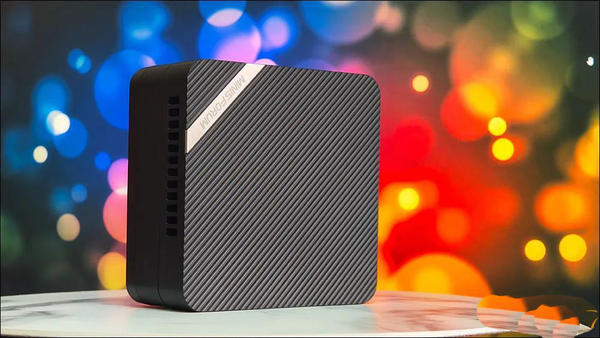 The most significant alteration in this product is the replacement of the original closed bottom cover with a new one featuring built-in dual fans and a generously sized heat dissipation grille. Furthermore, the height of the foot pads has been substantially increased, resulting in improved airflow beneath the bottom cover. This enhancement significantly boosts air circulation efficiency, guaranteeing that the memory and hard disk remain in a cooler cooling environment even when operating under high loads. This, in turn, maximizes the product's stability and reliability.
The bottom cover of the device has retained its screw holes for wall mounting, providing a convenient option for those who wish to mount it securely on a wall. Additionally, it comes with an included VESA bracket that allows the cover to be hung on the back of a monitor, further enhancing its versatility and adaptability to different setups.
In terms of the footprint of the whole machine, the UM690S has also increased slightly from the 0.79L of its predecessor to 0.88L. When dual memory and M.2 hard drives are installed, the whole machine weighs about 644g, but it is still not bloated and can be easily held in the palm of your hand, making it a remarkably compact and portable device that can be held with ease in one hand.

The power adapter in question is the Huntkey 120W portable model, a device that embodies both familiarity and functionality. Weighing in at a mere 274 grams, it is remarkably lightweight, making it highly portable and convenient for those on the go. Its compact design is a testament to its efficiency, ensuring it won't take up much space in your bag or travel kit. Furthermore, this power adapter boasts a robust build quality, exuding a sense of durability and reliability. In sum, the Huntkey 120W power adapter is a sleek and well-made solution for your charging needs.
The upper part of the Minisforum UM690S PC maintains the classic design seen in its predecessors, featuring a sleek black exterior. Its top cover is adorned with elegant wavy curves, and a silver logo plate graces the lower right corner, adding a touch of sophistication to its appearance. This design is undeniably attractive, combining aesthetics with functionality.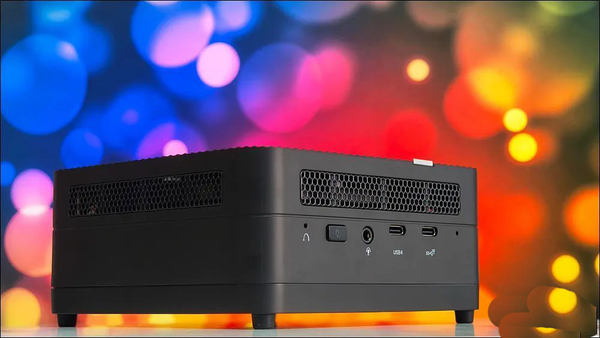 The interface layout of this product has remained consistent with its predecessor, maintaining familiarity for users. On the front end of the fuselage, you'll find a reset hole, a power switch, an audio interface, as well as both USB4 and USB-C3.2 Gen2 ports. While USB4 doesn't offer PD power supply capabilities, it does provide support for video output and can effectively drive a 15W portable display, making it a valuable addition to this product's connectivity options.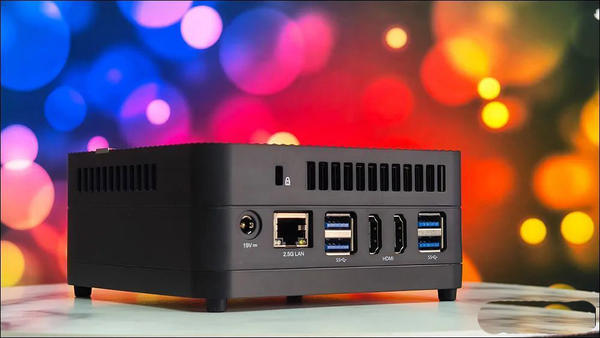 The rear of the fuselage boasts an impressive array of connectivity options, making it a standout feature in the world of gaming laptops. It is equipped with a power jack for uninterrupted gaming sessions, a 2.5G network port for lightning-fast online gameplay, and not one, but two USB-A 3.2 Gen2 ports, ensuring seamless connectivity for peripherals and external devices. Additionally, the inclusion of two HDMI ports that support 8K resolution at 60Hz takes your gaming and multimedia experience to the next level. With the added convenience of two more USB-A 3.2 Gen2 ports, totaling 4 in all, this laptop offers better connectivity than most of its gaming laptop counterparts. It's a testament to its commitment to delivering top-notch performance and versatility for gamers and power users alike.

The Minisforum UM690S boasts an innovative heat dissipation module, strategically positioned in the upper section of the PC. Surrounding it are strategically placed heat dissipation holes on all sides, ensuring optimal cooling. This intelligent design features a dual airflow system, with the left front and right rear channels working in tandem. This dual configuration results in twice the number of cooling fins, leading to a significantly larger heat dissipation area. The overall impact of this setup is something to eagerly anticipate, promising more effective cooling and a smoother performance.
Disassembly

The disassembly method for the Minisforum UM690S remains consistent with that of its predecessors. To initiate the process, start by carefully snapping off the four foot pads. Following this, proceed to unscrew the fixing screws located within the device's interior. Once the screws are removed, gently slide and lift the bottom cover away from the main body, following the gap provided for easy removal.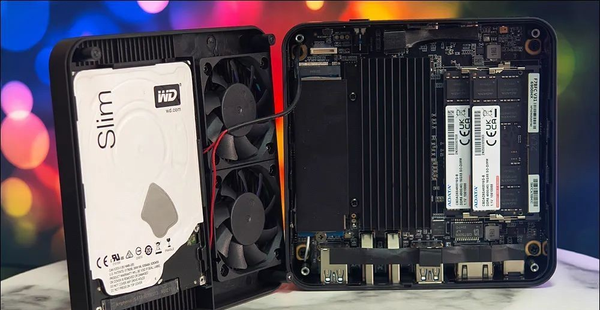 In comparison to its sibling models like the UM690, 773, 560, and 480, the UM690S distinguishes itself by transitioning from a solid bottom cover to an elevated design equipped with additional ventilation holes and integrated dual mini fans. What sets the UM690S apart is its unique feature: the absence of any obstructions when installing a second 2.5-inch SATA hard drive alongside the side-by-side fans.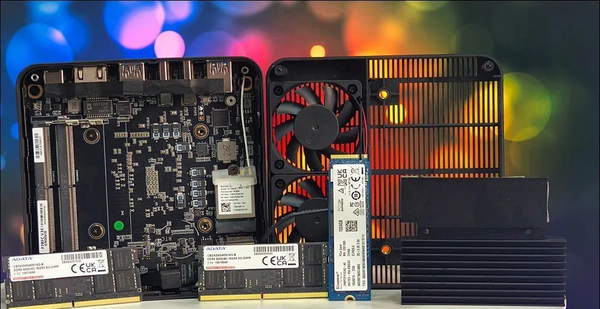 The internal motherboard design of the Minisforum UM690S remains consistent with its predecessors. It continues to feature dual memory slots, an M.2 hard drive slot, and a wireless network card stacking design.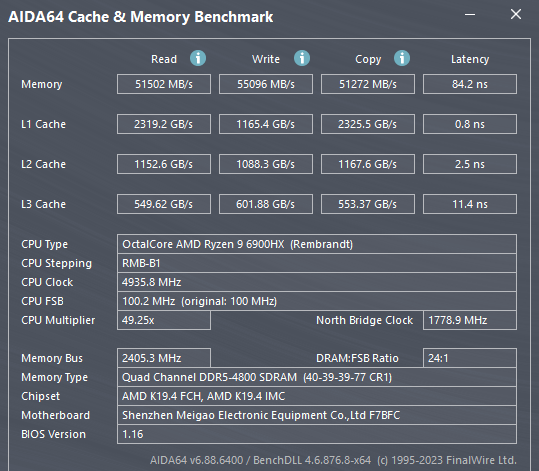 The device I got comes standard with two ADATA 16GB DDR5-4800 memories. The measured read, write, and copy speeds are about 51.5GB/s, 55GB/s, and 51GB/s, respectively. The latency is 84.2ns. The performance is not bad. These impressive specifications make for a snappy and efficient computing experience, whether you're tackling resource-intensive tasks or enjoying high-performance gaming.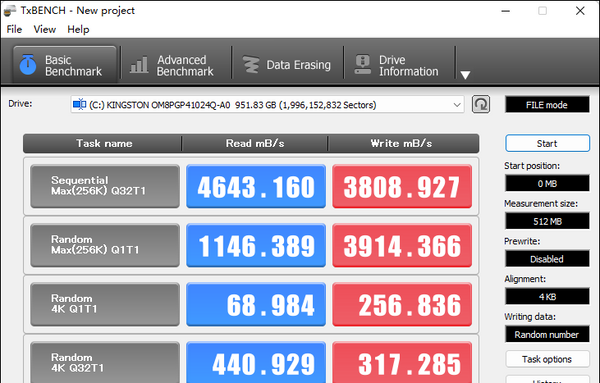 The standard hard drive in this setup hails from Kingston, boasting a capacious 1TB storage capacity. This mid-range PCIe 4.0 SSD delivers impressive sustained read speeds of approximately 4600MB/s and write speeds of 3800MB/s, making it a solid choice for users seeking a balance of performance and storage space.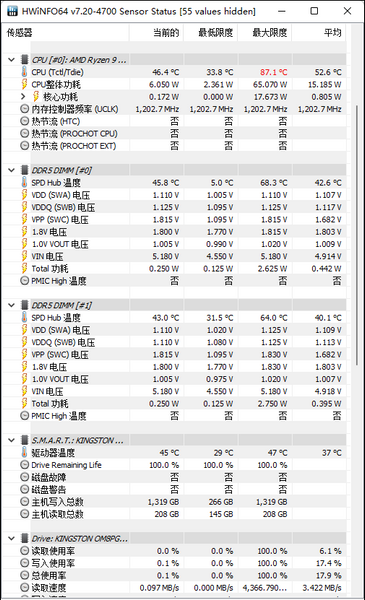 Equipped with two auxiliary cooling fans, this system ensures that critical components such as the memory, hard disk, and wireless network card remain consistently cool during operation. This effective cooling mechanism not only enhances the overall performance but also bolsters the system's stability, ensuring a seamless and reliable user experience.
After subjecting the Minisforum UM690S to several hours of intense software gaming and rigorous computer baking tests, the results were nothing short of impressive. The memory temperature peaked at a mere 68 degrees Celsius, while the CPU kept its cool at 64 degrees. Even the hard disk, under the same demanding conditions, reached a maximum temperature of only 47 degrees. The overall performance and heat management of the Minisforum UM690S were truly remarkable, rendering it a silent and efficient computing powerhouse.
Performance and Benchmarks
The Minisforum UM690S boasts a remarkable core competitiveness centered around its integrated AMD Ryzen 9 6900HX processor, featuring an impressive 8 cores and 16 threads. Notably, this processor's acceleration frequency reaches 4.9GHz, outpacing the Ryzen 7 7735HS by 0.15GHz. Moreover, the UM690S's integrated Radeon 680M core display also shines with a frequency of 2400MHz, surpassing the 7735HS by 0.2GHz. As a result, the UM690S emerges as a powerhouse, offering a superior overall performance in comparison.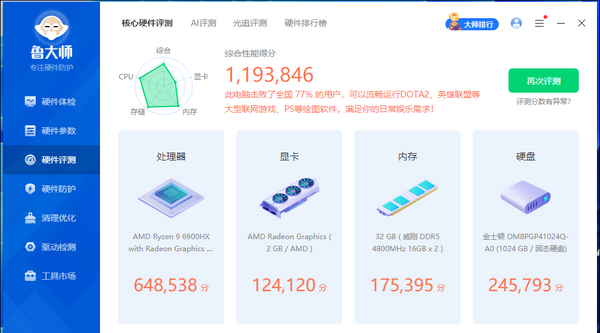 This is the moment to witness the enduring prowess of the former Core King. The Minisforum UM690S showcases its remarkable capabilities by achieving an impressive score of approximately 1.2 million in Master Lu benchmarks, surpassing a significant 77% of computer users across the nation. This outstanding performance underscores the advanced technology and computing power packed into this remarkable device, solidifying its position as a formidable player in the world of computing.

The Minisforum UM690S underwent the CrossMark test, earning an impressive overall score of 1747. Furthermore, in the PCMark 10 modern office test, this product showcased its exceptional performance by achieving a remarkable score of 7157, solidifying its reputation as a highly productive and efficient computing solution.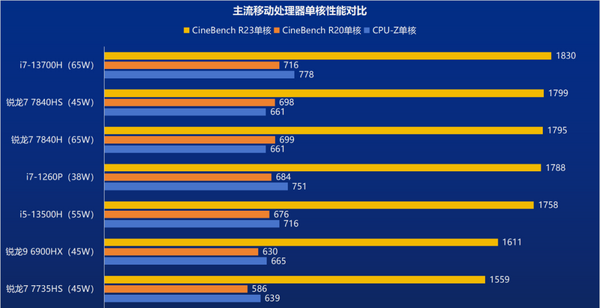 In a horizontal comparison of CPU-Z and CineBench benchmarks alongside other prevalent hardware platforms found in Mini PCs, it becomes evident that the Ryzen 9 6900HX processor exhibits remarkable single-core performance. When pitted against its peers, it outpaces the 7735HS, asserting its dominance. However, when compared to the 13th generation Core i5-13500H, it falls just short, albeit only slightly. This assessment highlights the competitive nature of the Ryzen 9 6900HX in the context of Mini PC processors, showing its capacity to outperform some while closely trailing others.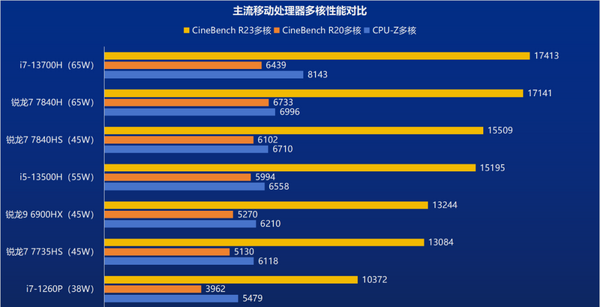 When evaluating CPU multi-core performance, the Ryzen 9 6900HX occupies a notable position within the spectrum of available processors. It stands as a robust performer, surpassing both the 7735HS and the i5-13500H in terms of multi-core processing power. This achievement is particularly remarkable when compared to the i7-1260P, which operates at the Core i7-1260P level. The Ryzen 9 6900HX not only bridges the gap between these processors but also excels in delivering enhanced multi-core processing capabilities. This performance distinction positions it as a formidable choice for tasks and applications demanding significant parallel processing power, such as content creation, video editing, and gaming, where the need for a balance between single-core and multi-core performance is vital.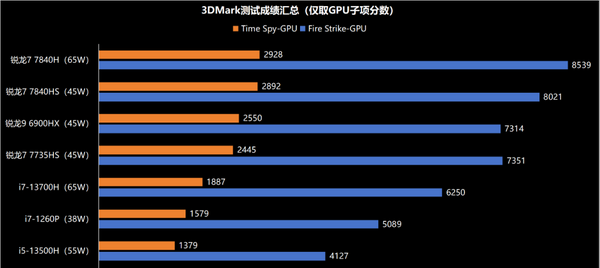 In the 3DMark graphics test, the GPU sub-score of Minisforum UM690S surprisingly failed to widen the gap with the 7735HS. This unexpected outcome could be attributed to the potential limitations imposed by the DDR5-4800 bandwidth, as one might expect. However, it's remarkable that the UM690S still managed to outperform the 13th generation Core-integrated Ruiju Xe 96 core, establishing its prowess in the graphics department. Its performance is second only to the new flagship, the 7840HS, showcasing the impressive capabilities of this compact yet powerful system.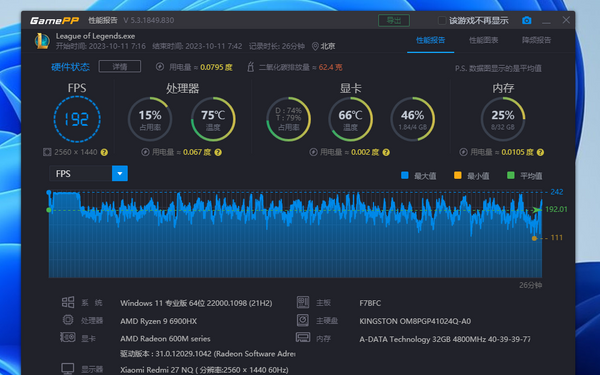 During the game test session in "League of Legends," using a 2K resolution and the highest image quality settings, the UM690S gaming experience proved to be exceptional. After a 26-minute game, the average frame rate was an impressive 192 frames per second (FPS), indicating a consistently smooth and enjoyable gaming experience. Furthermore, the UM690S showcased its capabilities by achieving a peak frame rate of 242FPS, ensuring that even during intense gameplay moments, it maintained a high level of performance and responsiveness. Even at its lowest, the frame rate dipped to just 111FPS, still well above the threshold for smooth gameplay. Overall, the UM690S demonstrated its prowess as a gaming monitor, providing players with a visually stunning and incredibly responsive gaming experience, making it an excellent choice for avid gamers.

During the rigorous testing of AAA games in high-performance mode, the resolution was meticulously configured to a crisp 1080P. Notably, when scrutinizing the performance of "Far Cry New Dawn" in high-definition mode, an average frame rate of 36FPS was observed, offering a visually stunning gameplay experience. However, for those seeking an even smoother ride through the post-apocalyptic wilderness, a simple adjustment to low-definition quality yielded an impressive boost, allowing the frame rate to soar to a brisk 43FPS. This flexibility in graphical settings provides gamers with the freedom to tailor their experience, whether prioritizing eye-catching visuals or fluid gameplay.

In "Assassin's Creed Odyssey," the average frame rate when playing the game in high image quality settings is 36 frames per second (FPS). However, for those seeking a smoother gaming experience or with less powerful hardware, the frame rate can be significantly improved by adjusting the game to low image quality settings, where it can reach a more fluid 51FPS. This flexibility in frame rate options allows players to tailor their gaming experience to their specific hardware capabilities and visual preferences.

In "Shadow of the Tomb Raider," the average frame rate when running the game in high image quality settings is 38 frames per second (FPS). However, for those seeking smoother gameplay and faster performance, it's possible to boost the frame rate to 52 FPS by adjusting the graphics settings to low image quality. This flexibility in graphical settings allows players to strike a balance between visual fidelity and optimal performance, ensuring an enjoyable gaming experience tailored to their preferences.
In "Horizon Zero Dawn," the game's performance can be finely tuned to suit your preferences. When prioritizing top-notch graphical quality, the average frame rate settles at a solid 30 frames per second (FPS), offering players a visually stunning gaming experience. However, if you value smoother and more responsive gameplay, the game allows you to prioritize performance, pushing the frame rate up to a brisk 46 FPS. This flexibility ensures that every player can tailor their gaming experience to their desired level of visual fidelity and responsiveness.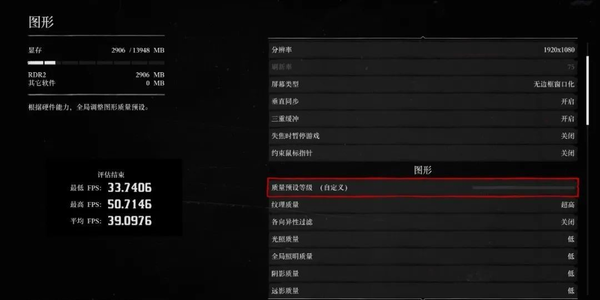 At the default low image quality setting in "Red Dead Redemption 2," players can expect to achieve an average frame rate of 39 frames per second (FPS).
Power Consumption

After perusing the running scores, the next point of focus for everyone centers on power consumption and heat generation. In its sleep state, the entire machine draws a mere 2 watts of power. As the system transitions into standby mode, the Minisforum UM690S registers an energy consumption of approximately 11 watts, a figure only slightly surpassing that of entry-level Mini PCs featuring the N100 processor. This distinction underscores the UM690S's continued commitment to energy efficiency, making it a cost-effective electrical choice.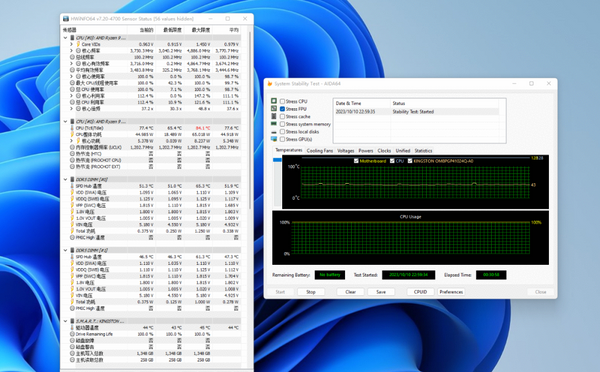 During the AIDA64 FPU baking test, the processor exhibited interesting power consumption behavior. Initially, it released 65W of power, but within a short period, this figure dropped to 54W. Afterward, it settled into a more stable state, maintaining a consistent power draw of approximately 45W. Even after running the test for 30 minutes, the processor maintained this steady power consumption, while the peak CPU temperature reached 84 degrees before gradually dropping and stabilizing around 78 degrees. The CPU operated at a clock speed of approximately 3.8GHz throughout the test. In terms of ambient conditions, the noise level near the PC was measured at around 45 decibels. The overall power consumption of the entire system was roughly 64W, and the maximum temperature observed on the top cover of the machine was approximately 42 degrees.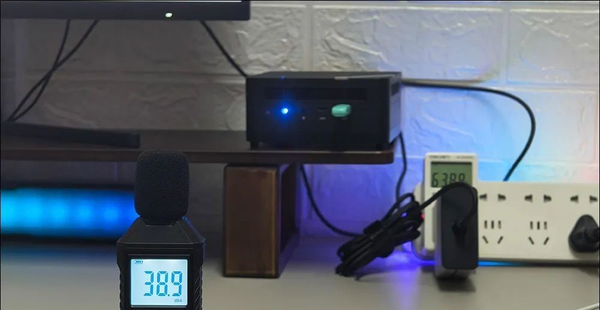 Moving the sound monitor closer to the user has a significant impact on noise reduction, bringing it down to less than 39 decibels. This level is only slightly higher than the ambient noise, ensuring that it won't disrupt the user's mood during creative work or gaming sessions.

During the rigorous 30 rounds of continuous testing conducted on CineBench R15, it was evident that the initial three rounds produced the highest scores, boasting a remarkable difference of approximately 160 points when compared to the lowest recorded value. As the testing progressed, the scores eventually stabilized at around 2100, demonstrating the consistency and reliability of the system's performance in subsequent rounds.
Our Verdict
In conclusion, the Minisforum UM690S is a remarkable addition to the Mini PC market, carrying forward the legacy of its predecessors and introducing some exciting innovations. Its transition to a dual-mode display configuration, alongside a significant improvement in heat dissipation, has enhanced its performance and reliability. The device's design remains sleek and attractive, offering multiple usage modes and exceptional portability.
The UM690S's performance, powered by the AMD Ryzen 9 6900HX processor, is nothing short of exceptional. It outpaces many of its competitors in benchmark scores, demonstrating its prowess in both single-core and multi-core processing. The gaming experience it provides is outstanding, with high frame rates and the flexibility to adjust graphical settings according to your preferences.
The UM690S stands out for its remarkable efficiency when it comes to power consumption, making it an excellent choice for those who prioritize energy conservation. This attribute not only reduces the device's environmental footprint but also translates into long-term cost savings for users. Despite its energy-saving capabilities, the UM690S doesn't compromise on performance. It remains a robust and reliable piece of technology, ensuring that users can accomplish their tasks and goals efficiently. Furthermore, the device excels in heat management, preventing overheating issues that can hamper both performance and the overall lifespan of electronic devices. The combination of energy efficiency, cost-effectiveness, strong performance, and effective heat management makes the UM690S a compelling choice for individuals and businesses alike.
In summary, the Minisforum UM690S is a versatile and powerful Mini PC that stands out in the market. With its sleek design, remarkable performance, and energy-efficient operation, it's a compelling choice for a wide range of users, from gamers to professionals. Minisforum's commitment to innovation and quality is evident in this product, and it's poised to continue setting the standard in the competitive Mini PC market.