ACTAMID M8S Colorful Palm-sized Mini PC Launched with Intel N6005
Morefine's Sub-brand Actamid Mini PC manufacturer recently launched a new Actamid M8S Mini PC on the Kickstarter crowdfunding platform which has reached a large audience in a very short time. This Mini PC is equipped with the same Intel Pentium N6005 processor as the high-end version of Intel NUC Essential, and supports 7-color colorful LED light effects, which is full of technology. Moreover, Actamid M8S has a built-in silent fan with a speed of 3000 rpm to ensure the stability of N6005 performance.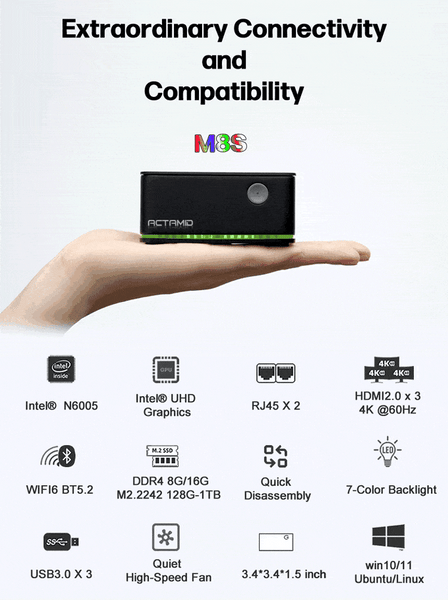 The size of the fuselage is 86*86*38mm, and the volume is only 0.28L. In order to increase the selling point of the product, Actamid has also launched a variety of top covers with different designs, which are convenient for users to replace by themselves. It feels so cool. Replacing the top cover is also very easy and only takes a few seconds. In such a small body, the Actamid M8S can be said to have achieved the ultimate in interface configuration. It has 3 USB3.0 ports, 3 HDMI 2.0 ports (supporting 4K@60Hz output), 2 Gigabit Ethernet ports, 1 3.5mm audio port, and 1 Type-C port that supports 30W/36W PD power supply .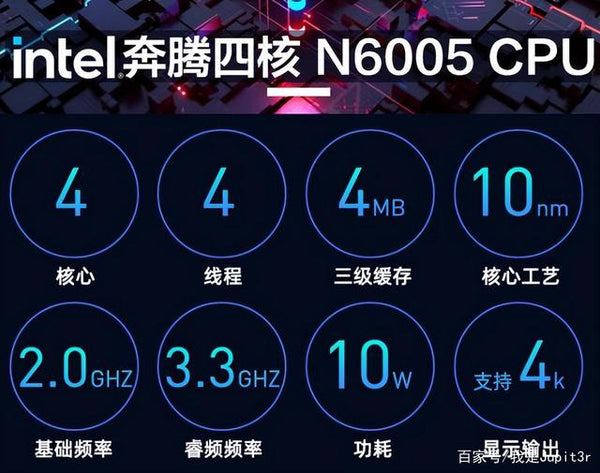 The Pentium N6005 is the most powerful low-power processor on the Intel Jasper Lake platform. It uses a 4-core 4-thread CPU architecture, a 10nm process technology, a 10W thermal power design, a base frequency of 2.0GHz, and a turbo frequency of 3.3GHz. In contrast, the turbo frequency speed of Celeron N5095 and N5105 are both Only 2.9GHz. In addition, the UHD core display of the N5105 integrates 32 execution units, which are 1.5 times and 2 times that of the N5105 and N5095 core display respectively. The maximum dynamic frequency of the core display is 900MHz, which is also stronger than the other two processors.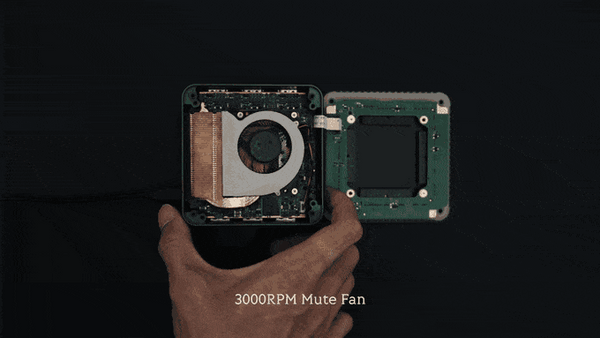 In addition, the Actamid M8S is also equipped with 8GB/16GB of running memory, but the memory is onboard and cannot be replaced and upgraded. The hard disk uses the standard M.2 2242 interface (supports NVMe and SATA protocols), and users can upgrade it later by themselves. In addition, this small computer also comes standard with an Intel AX201 wireless network card, which supports WiFi 6 and Bluetooth 5.2 connections.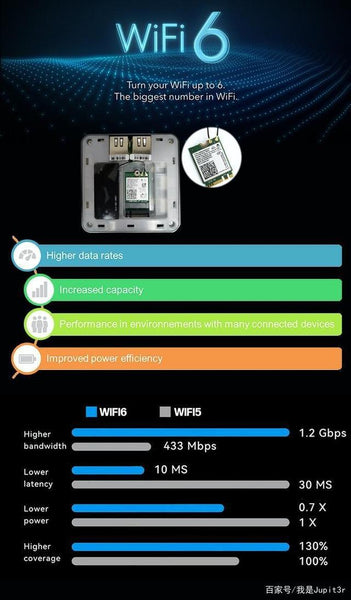 Despite its small size, the device has a large number of I / O ports:
3x USB3.0
2x Gigabit Ethernet
3x HDMI 2.0
USB Type-C
SSD M.2 2242
5mm audio jack
DC jack (12V/3A/PD30W)
The M8S is pre-installed with a genuine and authorized Windows 11 professional operating system, and users do not need to spend money to purchase it. For consumers who are not used to Win11, they can also choose to install Windows 10 or Linux-based open source system by themselves.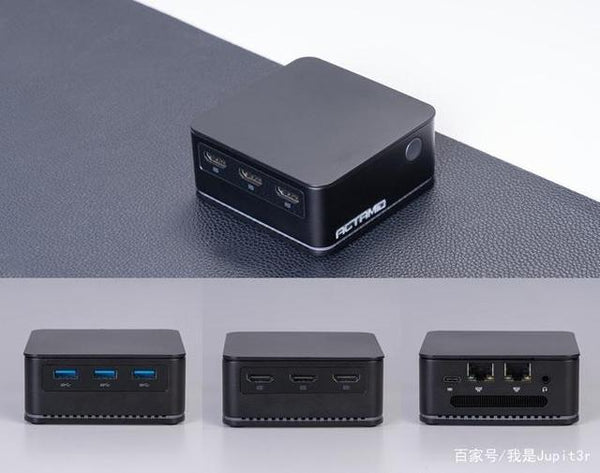 At present, the M8S is priced at HK$1,876 ($239) for early bird crowdfunding on Kickstarter, including 8GB of memory and 128GB of NVMe solid state. The M8S N6005 Mini PC is available in several configurations. The most powerful version of the M8S has 16GB RAM and 1TB M.2 SSD ($369). The delivery is to be carried out from September 2022.