AOKZOE A1 First R7 6800U Handheld Officially Available For Pre-Sale on July 30
The AOKZOE A1 handheld equipped with R7 6800U announced that it will be released at 19:00 on July 30, and pre-sale will start at the same time. Officially, the standard version of the handheld weighs 668 grams and is equipped with pure aluminum heat sinks and pure copper heat pipes to ensure efficient heat dissipation and is compatible with Windows 11 and SteamOS.
AOKZOE A1 is a portable console that promises to compete directly with the Steam Deck . The video game bears the same name as the Chinese manufacturer AOKZOE, and comes with an AMD Ryzen 7 6800U processor, as well as a Radeon 680M graphics card. The idea is that it will run PC games with huge quality and rates of 60 fps, including recent titles like Elden Ring , Call of Duty: Vanguard , Forza Horizon 5 , among others.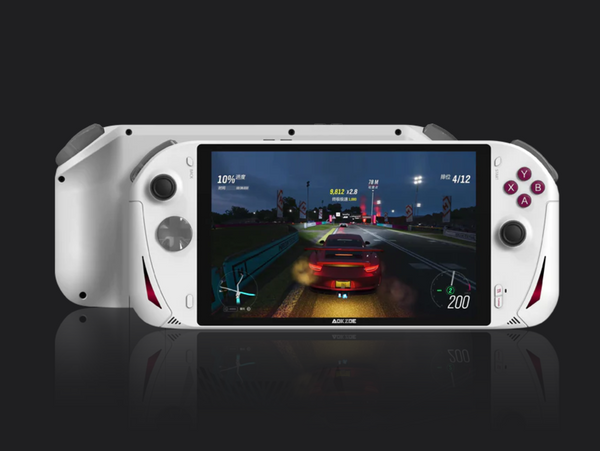 In addition, this handheld is equipped with an 8-inch +1920x1200 resolution full HD IPS display with a pixel density of 283PPI. In addition, it adopts an ergonomic and comfortable arc design, which can effectively prevent hand cramps. It also supports fast charging, so you can recharge it in a fraction of the time and continue enjoying your games. The AOKZOE A1 adopts an ergonomic and comfortable arc design, which officials say can effectively prevent fingers from cramping after prolonged gaming time. AOKZOE A1 also supports fast charging, you can recharge it in a short time and continue to enjoy the game.
A new console or a portable mini computer is equipped with strong components. AOKZOE A1 is based on the Ryzen 7 6800u mobile processor, Radeon 680M graphics chip and fast LPDDR5X memory, which is 16 or 32 GB depending on the configuration. Thanks to this specification, the console is able to achieve a stable 60fps in the Elden Ring , or 100fps in the latest version of Forza Horizon 5 . More tests in games (including Cyberpunk 2077 ) can be seen on the producer's channel .
Less important, but still useful additions are the gyroscope and vibration system built into the console. The former allows you to control games by tilting the equipment sideways. This option will work in racing games or as a "assist" in aiming. Vibration motors are rather standard in this type of devices, although it's nice that the manufacturer did not cut costs and used them. There was also space for two tiny RGB LED strips to add character.
The AOKZOE A1, depending on the configuration, weighs 668 g in the basic version and 729 g in the better equipped version. The manufacturer is slowly revealing details about the console, so the Pre-sale price is not known at the moment. The first delivery of the equipment is planned for September 2022.