AOKZOE - A Portable Handheld Gaming PC Coming with Ryzen 7 6800U From One-Netbook
The portable PC hardware market is making a comeback. In addition to the most recent Steam Deck, we cannot fail to notice the Nintendo Switch which, although it is in fact a hybrid console, also offers gamers the game in portability. In all of this it is the Chinese market that is betting very strongly, and recently there is a new contender called AOKZOE that seems to be already flexing its muscles on a whole series of video games of the moment. Meet AOKZOE, an upcoming Ryzen 7 6800U portable gaming PC. Check out the details of this game console.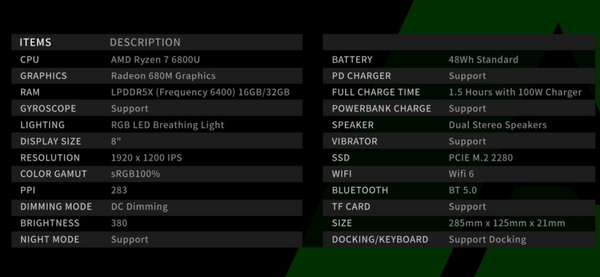 But who exactly is AOKZOE? It appears to be a sub-brand of a Chinese company One Netbook, which has been making portable PCs in recent years. According to the US government, Shenzhen One Netbook Technology Co, Ltd. applied for a trademark for the AOKZOE brand. It's unclear why the company, which already sells a number of portable gaming PCs with a choice of Intel or AMD processors, needs another brand to sell systems. While One Netbook has confirmed that it is working on laptops with AMD's new Ryzen 7 6800U processor , I don't think the company ever said it would be sold under the usual ONEXPLAYER brand.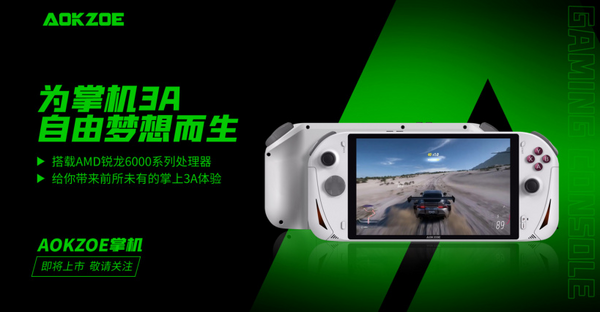 Update: According to a press release, AOKZOE started out as an independent group before partnering with One Netbook. AOKZOE is said to be responsible for "market development and product design", while One Netbook helps to "produce and supply products", which means that the AOKZOE handheld is manufactured by One Netbook."
The Chinese company AOKZOE showed us their laptop which is equipped with an AMD Ryzen 6800U processor . This is the latest mobile APU with 8-core Zen3 x86 core and 12-core RDNA2 integrated graphics. Several versions of the console have already been announced with different designs and with Ryzen 6800U, but the video showing AOKZOE's portable hardware is one of the first prototypes showing this powerful APU in action. AOKZOE also suggested that the system will be able to run at either 15 or 28 watt TDPs, meaning users should be able to configure power levels to prioritize battery life or performance depending on their needs.
As we can see in the video published online a few hours ago, it is possible to view AOKZOE's new portable hardware in action with short gameplay videos on some of the most recent games such as Forza Horizon 5, Cyberpunk 2077, Elden Ring and Monster Hunter World. Inside the video, the details on the graphics settings of the games are missing and the gameplay resolution is not mentioned either, but it can be seen that the screen resolution is 1920 × 1200.
In the video, however, we can see how in Forza Horizon 5 and Monster Hunter World the APU offers gameplay at over 100 FPS , while in the game phases with Cyberpunk and Elden Ring the hardware reaches around 60 FPS. This is undoubtedly very good performance, especially if you think that we are talking about a not extremely powerful device, and this framerate could significantly increase if we consider the potential gains from FSR / RSR technologies.
The notebook will be available with options of 16GB or 32GB of LPDDR5X-6400 RAM and has an M.2 2280 slot for a PCIe SSD. Other features include a 48Wh battery, support for 100W fast charging (you can fully charge the battery in 1.5 hours), stereo speakers, a microSD card reader, and support for WiFi 6 and Bluetooth 5.0 as well. as an optional docking station and/or keyboard accessory.
There's also a stand built into the back of the device, allowing you to easily lift it off a flat surface.
There are RGB lighting effects built into the notebook's design, and AOKZOE says the display supports up to 380 nits brightness and 100% sRGB color gamut. In addition to the built-in game controllers, there's a gyroscope for motion controls and a vibration motor for haptic feedback.
AOKZOE says the laptop is expected to be pre-ordered in July 2022 and start shipping in September. It will join an increasingly crowded portable gaming PC market, where it faces competition from Valve, GPD, AYA, AYN, Anbernic and other companies.