Ayaneo Next 2 World's First handheld with Discrete AMD RX 6000 or Intel Arc GPU
Ayaneo has once again unveiled a new portable game system. The Ayaneo Next 2 handheld comes with CPU and discrete GPU from AMD or, for the first time, Intel. The Ayaneo Next 2 is already the seventh new system in Ayaneo's line-up for 2022, none of which are officially available yet. Since the Chinese start-up's existence, virtually every mobile chip has been used to build a new Windows handheld around it, often with at least one "world's first" claim for each new unveiling.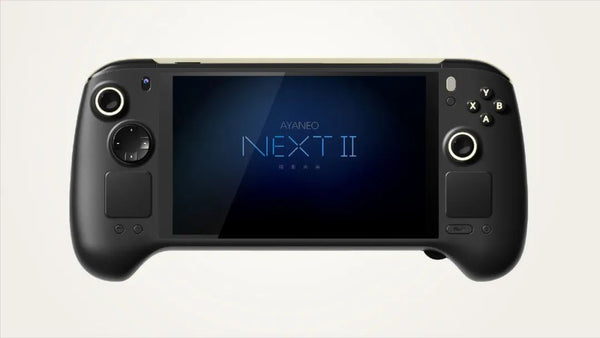 In an extensive live stream , the chairman of Ayaneo unveiled the world's first Windows handheld with both CPU and discrete GPU from Intel. In addition to a variant with Ryzen 6000 and Radeon 6000 chips from AMD, Ayaneo's regular chip supplier, the Ayaneo Next 2 also appears in an Intel flavor. The precise chip models were not mentioned — not even on the AMD side — but Ayaneo does ensure a CPU of the current Alder Lake generation and a 'DG2' GPU from Intel. 'Dedicated Graphics 2' refers here to the Alchemist generation of Intel Arc, of which the first mobile chips are already in circulation .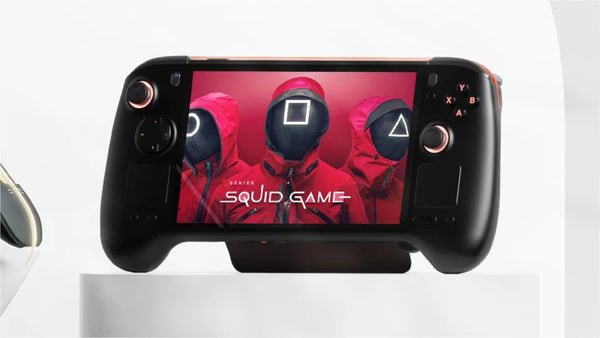 It is still unclear which Intel Arc chip should be implemented, but the obvious choice is the ACM-G11 GPU — Intel's 'low-powered' processor, which offers a maximum of 8 pieces of Xe cores. At full power, the GPU is able to play many 1080p games at 60 frames per second, although Ayaneo may keep the TGP (and resolution) significantly lower. With the new hardware, the size of Ayaneo's handhelds is also growing. The Next 2 appears significantly larger than previous handhelds, with borrowed elements from the popular Steam Deck as well . For example, the chassis is enriched with two touch panels and four back keys are also introduced in Ayaneo's design, just like Valve's portable system. However, the screen-to-chassis ratio at Ayaneo looks greater than Valve.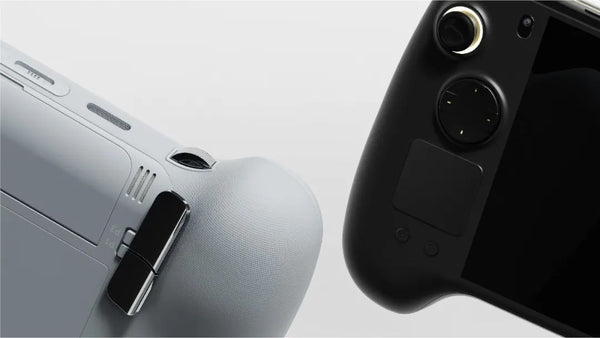 Ayaneo did not reveal much about further features and specifications, apart from the fixed inclusion of interchangeable M.2 SSDs. It remains unknown for the time being what kind of memory is associated with the handhelds, let alone what kind of screen is milled into the chassis. As a newcomer to Ayaneo's premium offering, a minimum of 16 GB of LPDDR5 speaks for itself. The screen is probably at least 1200 by 800 pixels at 60 frames per second — with a small chance of OLED technology .
AYANEO NEXT 2 is available in two brand versions:
INTEL
CPU: Alder Lake
GPU: DG2 Mobile
AMD
CPU: 6000 Series
GPU: 6000 Series Mobile
The RX 6000M series graphics cards inherit all the features of the RDNA2 architecture, including hardware ray tracing, Infinity Cache unlimited cache, SAM memory intelligence technology, SmartShift dynamic power allocation technology, and more. Energy efficiency is also as good as ever, with up to 50% performance improvement and up to 43% lower power consumption compared to the previous generation architecture. These two independent graphics have powerful performance, bringing a fully upgraded gaming experience from mainstream AAA Games. No matter what kind of game, you can enjoy high frame rate experience on AYANEO NEXT 2 in the future.
More powerful features
Large-screen handhelds have a pain point, that is, balancing heat dissipation, feel, battery life, and performance. AYANEO has an expert-level understanding of this and will balance it in all aspects. Like AYANEO NEXT, AYANEO NEXT 2 will still have an excellent tactile feel; Master all-around handle, including Hall joystick, Hall trigger and linear motor, has eight functions and six patents, realizing a great leap in intelligent control, allowing players Handy, feel the professional-grade and gaming-grade handle experience; one-key fingerprint unlocking allows AYANEO NEXT 2 to wake up the handheld and complete the unlocking by simply touching the fingerprint for identification.
On this basis, AYANEO NEXT 2 also innovatively provides a camera on Windows handhelds to facilitate players' game interaction. The release of AYANEO NEXT 2 represents AYANEO's highest-end handheld technology, and also demonstrates AYANEO's commitment to creating the world's best handheld. Compared with many competing products, AYANEO NEXT 2 is currently the most powerful Windows handheld in the world.
It is still unclear when the Ayaneo Next 2 will officially appear, just as it remains unclear with many of Ayaneo's recently unveiled handhelds. Prices were also not discussed, although a rate of more than $ 1,000 is obvious. After all, a slightly lighter-tuned handheld, with a Ryzen 6000 cpu and RDNA 2 gpu, already costs 650 to 1,000 dollars at Ayaneo. As a cheaper alternative, Ayaneo still has the Ayaneo Air Plus on the schedule, for about $289.