MNT Research Launches Pocket Reform Mini Notebook with Replaceable ARM or RISC-V Processor
If you are looking for a compact laptop that additionally allows you to replace the processor and memory and supports popular Linux releases, it's worth taking a look at Pocket Reform.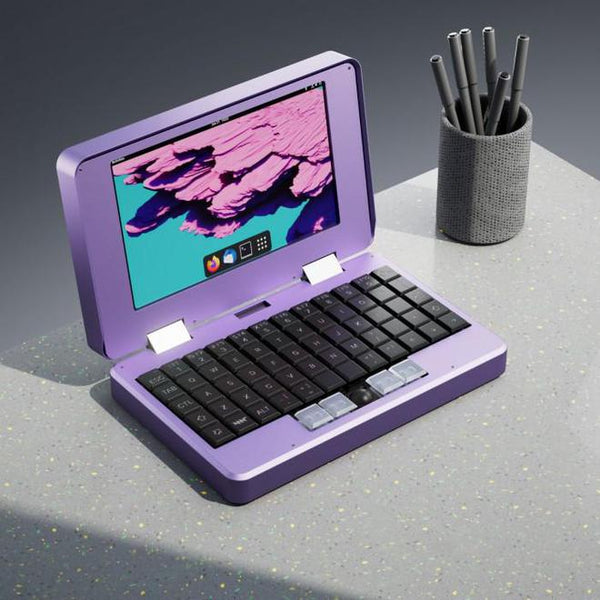 The MNT company unveiled a compact but fully functional mini laptop, which was called Pocket Reform. The equipment allows you to write e-mails, notes, watch movies, listen to music or run games. In fact, it enables almost the same as a modern smartphone, but performing these activities on a laptop should be easier. Many people will probably say that it is enough to connect the keyboard to the smartphone and we will achieve the same. Undoubtedly, this is a correct statement, however, Pocket Reform has other advantages that basically all smartphones lack.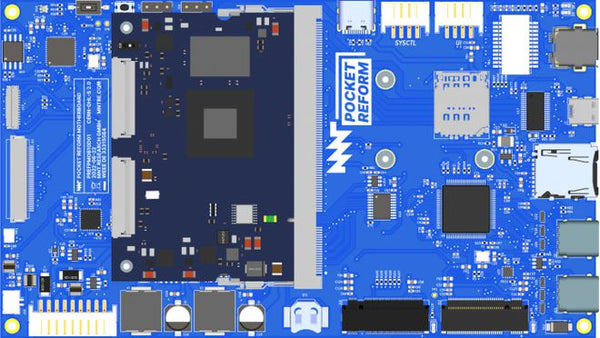 "Pocket Reform is an unusual piece of equipment that will soon enter the beta phase. It is not known whether it will go on sale or be offered only to people who support the project (financially, of course)."
Pocket Reform minilaptop is more or less a return to the times of netbooks. The equipment is equipped with a 7-inch Full HD display (1920 x 1080 pixels, 310 PPI) The standard configuration includes the NXP i.MX 8M Plus processor consisting of four ARM Cortex-A53 cores clocked at 1.8 GHz, 4 GB of DDR4 memory, Vivante GC7000UL graphics processor and neural processor.
As we mentioned, this is the base specification because it can be changed a lot. Compute Module 4 (8 GB version), Pine's SOQuartz RK3566 (via adapter, 4x ARM Cortex-A55, 8GB DDR4, GPU Mali G52), NXP Layerscape LS1028A (2x ARM Cortex-A72 with 8 or 16GB DDR4 and Vivante GC7000UL GPU ) and even an FPGA with a RISC-V SoC (although this option is labeled for industrial use only).
The 60-key Ortholinear Keyboard uses Kailh Choc White mechanical switches with N-key rollover and RGB backlighting. There's also a 10mm optical trackball with four buttons, an integrated DAC with mono speaker, 802.11 ac Wi-Fi, Bluetooth 5.0 and up to 128GB of eMMC flash memory, expandable via a microSD card slot or NVMe SSD.
Two lithium-ion cells provide 8,000 mAh of total battery capacity. Support is limited to Debian, Arch, Ubuntu, and Void Linux, along with Plan 9 (a research operating system from the same group that made UNIX at Bell Labs) and Genode operating systems. Support for OpenBSD is under development.
But other options include:
NXP Layerscape LS1028A chip with 2 ARM Cortex-A72 cores, Vivante GC7000UL graphics and 8GB or 16GB of DDR4 memory
Raspberry Pi CM4 with 4 ARM Cortex-A72 CPU cores, VideoCore graphics, 8GB DDR4 RAM (and an adapter)
Pine64 SOQuartz RK3566 with 4 ARM Cortex-A55 CPU cores, Malie-G52 graphics, 8GB RAM (and an adapter)
AMD/Xilinx Kintex-7 FPGA (with support for RISC-V or other architectures)
MNT says supported operating systems include GNU/Linux distributions such as Debian, Arch and Ubuntu, as well as other software including Plane 9 and Genode. OpenBSD support is said to be a work in progress.
One thing the company hasn't announced yet? prices.
But MNT plans to start taking pre-orders for a beta version of Pocket Reform in July in an effort to get the hardware into the hands of hardware and software hackers interested in helping to troubleshoot the device before it becomes more widely available.
People interested in helping with the beta test can subscribe to the Pocket Reform Newsletter or keep an eye on the MNT community forum for more details.