Minisforum Launches The EliteMini B550 Mini PC With Ryzen 7 5700G APU & eGPU Support
MinisForum, which specializes in the production of mini PCs, has finally introduced the new EliteMini B550 Mini PC. It is said to be one of the most powerful mini PCs on the market. Introduced in February, the Minisforum Elitemini B550 mini PC goes on sale, with other specifications previously announced. Recall that the company initially talked about the Ryzen 5 5600G and Ryzen 5 5600X processors at the heart of the mini-PC. As a result, models on the Ryzen 7 4700G and Ryzen 7 5700G went into the series. The rest of the device has not changed.
Minisforum sees two key selling points for the AMD Ryzen-powered NUC-like. First, it uses socket AM4 processors, and secondly, buyers get an external GPU slot to use the best graphics cards. However, there are a few more attractions and drawbacks.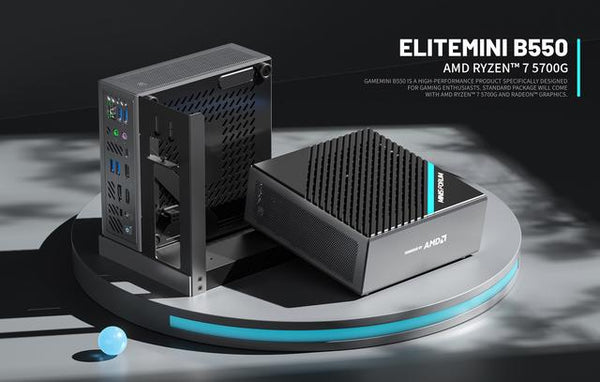 The B550 mini PC will use the AMD B550 chipset . MinisForum will be selling it with two different CPU options including 4700G (base clock 3.6 GHz, boost clock 4.4 GHz) and 5700G (base clock 3.8 GHz, boost 4.6 GHz). Customers can replace the CPU with their own if they wish. Supports Ryzen 4000/5000 series CPUs with socket AM4 with TDP less than or equal to 65W (so not compatible with 5950X/5900X/5800X). The motherboard supports up to 64Gb of RAM and has two M.2 2280 SSD slots. Depending on the CPU you use, the B550 can support PCIe4.0. It has AMD RZ608 so it supports BT5.2 and Wifi 6.
The biggest feature is that it supports a full-size external discrete graphics card. For users who like mini PCs, the biggest annoyance is that they can only choose GPUs with relatively weak performance, which affects the experience in some applications. Although with the Thunderbolt 3 interface, this problem can be solved through the graphics card docking station, but there will be a certain performance loss, and the cost is high.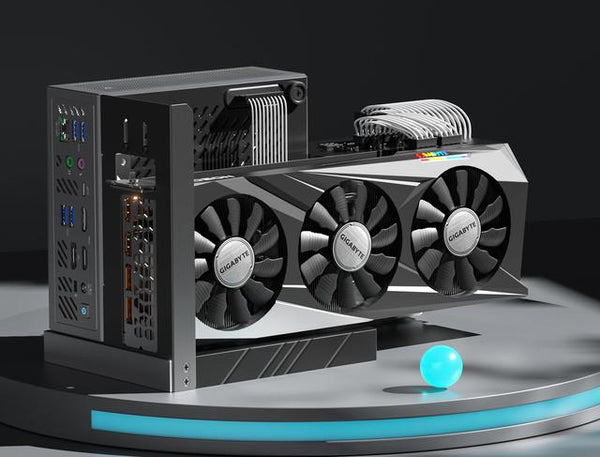 The Minisforum Elitemini B550 is a small and easily portable computer compared to the Mac Mini and Intel NUC (and others). It measures 20,859 x 24,088 x 12,813 cm (approx. 8.3 x 9.4 x 5 inches) according to the product pages. Still, the dimensions mentioned in the product video are slightly smaller, a major sizing error. The Elitemini's design isn't very attractive, but it looks functional, with lots of vents and lots of ports (all on the back). A good way to hide this is the VESA mounting base with the screws provided.
Inside the case you'll have access to dual SODIMM slots for up to 64GB of DDR4-3200 RAM and there are twin M.2 2280 SATA/NVMe SSD slots. If you are using a newer generation processor, you can use NVMe PCIe 4.0. The other user-upgradeable component is a single 2.5-inch SATA SSD/HDD. A Wi-Fi and Bluetooth card is already on board, so you don't have to worry about that.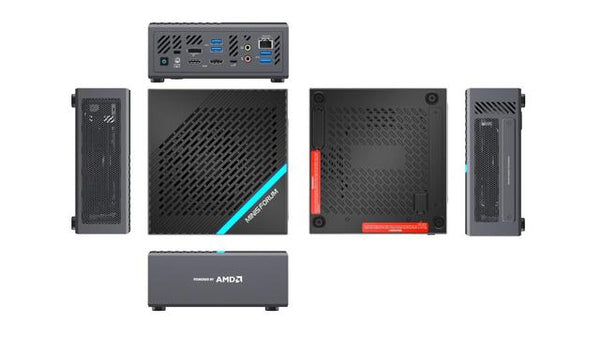 The ports on the back of the Elitemini B550 include; RJ45 2.5 Gigabit Ethernet Port × 1, USB3.2 Port × 4 (Gen2), USB-C Port × 1 (Gen2), HDMI ( 4K@60Hz ) × 2, DisplayPort( 4K@60Hz ) × 1, 3.5 mm Headphone Jack (Green), LINE OUT × 2, Clear CMOS × 1, 3.5mm MIC Jack × 1. That is, triple screens without adding an external GPU. The power button is also on the back.
A somewhat minimal GPU slot is included with your purchase of the Minisforum Elitemini B550. It doesn't cover the GPU you decide to fit. Depending on your choice of graphics card, it can significantly exceed the dimensions of the host. If you don't like this idea, choose a 24cm or shorter GPU. You cannot VESA mount the Minisforum Elitemini B550 if you choose to use the external GPU slot. In pictures of the attached GPU, the desktop case is on the side, while the GPU extension is effectively on the underside where it has feet and mounting holes. 
The external GPU is not powered by the 19V power brick provided with the Elitemini 500. Requires an external ATX or SFF power supply (not included). Having a PSU on/on the desk next to this system adds more unwanted clutter to your setup. The positive side of adding a desktop power supply is that it can support more powerful CPUs, but keep in mind that the cooling system is only suitable up to 65W.
At first glance, this looks like a great alternative and an extremely portable mini system (it even comes with a carrying case); however, taking full advantage of their USP adds a lot of clutter, clutter, and clutter to your desktop. Maybe an SFF PSU could be screwed into the build somehow to make things neater. On the other hand, if you want a small system with a desktop graphics card, it might be better to get/install a Mini ITX system and then everything will be neatly packed into a convenient and stylish case.
The flexibility offered allows you to forgive the style a little. You can buy this machine with AMD Ryzen 7 5700G or Ryzen 7 4700G (to save $100), both 8C/16T APUs from different generations. However, you won't be stuck with your choice as this is a socketed AM4 CPU. You can change it later. So it's a bit sad that there isn't a cheaper processorless version of the 'Barebone' option with no RAM or SSD.
Price and configuration after presale discount:
With 5700G
Barebone – US$ 599
16GB RAM + 256GB storage – $699
16GB RAM + 512GB storage – $729
32Gb of RAM + 512Gb of Storage – US$809
With 4700G:
Barebone – US$ 499
16GB RAM + 256GB storage – $619
16GB RAM + 512GB storage – $639
32Gb of RAM + 512Gb of Storage – US$719